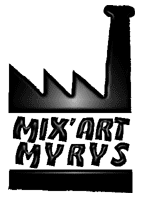 by Flemming Funch

Just another of our little ongoing discoveries of how daily life in Toulouse, France is different from life in Los Angeles.

The day before yesterday some fliers were handed out on the block, inviting us to an open house Friday in a building in the neighborhood, which apparently is a former factory that is going to be a center for an artist's collective called Mix'Art Myrys. They want to meet their future neighbors and shake hands and see who we are and hear if there's any issues we have with anything. How very nice. It is actually quite a common thing here that when there's some kind of new semi-public project of any magnitude there will be public hearings and all the stakeholders are invited to participate and voice what they think, etc.

But now, yesterday night, we get another set of fliers in our mailbox about the same thing. This time from the Mairie, the mayor's office. Handed out by what obviously was some public office workers. They included a statement from the mayor that he was very surprised that Mix'Art Myrys had decided to move into that old factory, as he had advised them against it, and he was very much against the idea, even though he thinks that alternative cultural activities should generally be supported. And it included contact information for calling telling the Mairie if we really don't want these guys to move in.

But the killer is then the added information that apparently this is some kind of squatter group. They had previously illegally moved into nothing less than the old Prefecture, a key government building, and stayed there for three years, running their artist collective and having exhibitions, etc. And they apparently don't have any kind of authorization to move into this new building. Meaning, they don't own it, even though they're in some kind of talks with the owner, and it isn't zoned for this use, and the Mayor doesn't really want our quiet neighborhood to be subject to the activities that this group apparently is known for. Which I'm not quite clear on what is, as the website is kind of cryptic, but it includes theater for kids at least.

Now, if this were the United States, and some sort of large anarchic art group was making moves to take over an abandoned factory without permission, and they'd even done it before - we'd be talking tanks and tear gas, and some dead bodies would be quite likely. Instead we get a letter from the mayor pleading with us, the local citizens, to support his case and voice our opinion. Which apparently is what decides things. And everybody, the government officials and the anarcho art squatters, are apparently very intent on having an open public dialog with everybody, having everybody over for tea and cookies, to sway them with good arguments.

I suppose we'll go and see what actually happens.