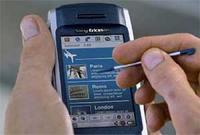 by Flemming Funch

I finally have another cell phone. Which I was in two minds about. We've actually been doing perfectly fine with just one cell phone for the family. Which is strange, as we had five cell phone accounts in L.A., and that seemed about right. But it is a bit in the same category as that we had three cars to drive, and it was hard to imagine much less. But now, if I hint at that we maybe should find out how to have a car soon, everybody else says "A car!?! What on earth do we need a car for?" And if I suggest that I might get one more cell phone account, it also goes: "What would you possibly need that for?!" We've gotten used to living a bit more simply, and are actually quite happy with that. So I'm hesitant to restart the "arms race" of trying to keep up with the things one is "supposed" to have, as one thing leads to another, and new things create new needs, and it doesn't really end.

But what makes the difference now is that I'm being paid for watching servers again. Which means that to seem to do my job I need to be reachable all the time, and that I can have my servers send me pages when something needs attention. And preferably also that I can look at various monitoring webpages, and that I can log into a server and restart something. And an IM program like ICQ would be really nice. Then I can actually go somewhere without being constantly worried about what might be going wrong in the meantime.

Last time I made a serious attempt at getting most of that to work was two years ago. A bluetooth GPRS tri-band GSM phone (Nokia 3610i) and a Palm handheld with an added bluetooth module, so it could talk with the phone. Which sounded like it would do what I wanted. But the phone seems to have a buggy bluetooth implementation, so it would tend to disconnect often. And the bluetooth module for the Palm sticks out at the end, so I can't really put it in my pocket like that, and the connector to it broke as well. I did manage to get a persistent GPRS connection to work a few times, and I got ICQ to run on the Palm. Which was great for about two minutes, until the Palm shut off, which it does if you don't touch it for a little while. Which killed my idea of having ICQ running in my pocket. And the always-on net connection over GPRS only worked for me in Europe. In L.A. I was using Cingular as provider, and they had just started implementing GPRS and it worked badly and slowly. So I was pretty much back to just receiving pages by SMS.

And my drawers are full of other, earlier attempts of attaining always-on connectivity while being mobile. Several Palm devices, like the VII which had built-in wireless, except for you couldn't do anything very useful with it. Various kinds of cards for my laptop. A CDPD cellular modem, which had trouble finding a signal just about anywhere. A Ricochet card, which worked wonderfully all over L.A. and in various airports, for about a month, until the original company went under. And then a long string of mobile phones, going back to almost 20 years ago when it was a $2000 suitcase you could indeed carry, but it wasn't exactly handy.

So, I don't quite think it is the holy grail yet, but my new Sony Ericsson P900 actually seems to work. It has a big color screen and a built-in PDA. The bluetooth and GPRS actually works. I can run an IM program and it actually keeps running after I put it back in my pocket. I can run a terminal program and log into servers with SSH. I can actually look at a webpage in a somewhat useful way. And as a bonus it has a built-in camera and it is easy to send a picture or video by MMS or e-mail. And MP3 player and other goodies. Anyway, the picture thing is particularly cool, as it means I'll be able to do a moblog and post pictures on my blog on the fly without having to first go home and download my camera and upload by ftp.