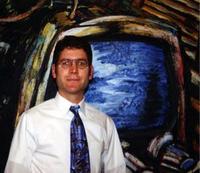 by Flemming Funch

Stuart Henshall summarizes a paper, Sense in Communications", by Douglas Galbi, who is an economist with the FCC. The paper is an in-depth 190 page study on "Presence". He states in part that: "To avoid disaster, the telecommunications industry needs to shift from providing telephony to providing means for making sense of presence." Anyway, I agree with Stuart that it is important stuff.
Key Insights:
"Presence" is fundamental to creating future communications value. We are a a critical point where the interaction of photography (pictures) and telephony (calls) will radically reduce the cost of making sense of presence and create new opportunities for value creation


What makes a letter a joy, or a voice from an object (a telephone headset) a comfort, rather than a horror, depends on the sense of another's presence, despite that person's physical absence. The way this sense is activated, and at what cost, directly relates to sensuous choices in communication.

Three models of communications illustrate why:
1)information transfer (under different sensory circumstances eg face to face to new forms of social software),
2)storytelling (shared interpretation and different sensory economics), and
3)sense of presence (an element of real-time presence detection and participation). Of these only "Presence" provides the sensory opportunity to radically redirect strategies for mobility and social networking.


Since most demand for information is for textual information, information transfer offers relatively little scope for comparative advantage in sensuousness. In storytelling, high-production cost, streaming audio-visual stories dominate other feasible sensuous forms. At the other end of the technological spectrum, the extraordinary advantages of paper and ink as a storytelling medium - low-cost, highly portable, widely accessible, and durable - make it difficult for a sensory alternatives to create a competitive advantage.


Providing means for persons to make sense of presence in the absence of physical proximity is a business in which sensory innovation has enduring opportunities to create value. Making sense of presence in social interaction among friends and family has long driven demand for telephony and photography.


Making sense of presence also drives demand for use of e-mail, instant messaging, mobile short messaging services (SMS), and camera phones. Making sense of presence is a good not constrained by conventional distinctions between content and communication.


Communication services have enormous opportunities for innovation, differentiation, and commercial competition in organizing sensory modes to support production of this highly valued good. Not understanding this good could be disastrous for major, well-established organizations.
What I really want is to be present. Present with my own life, but also present with people I care about, no matter where they physically are in the world. Present with activities and fields of information I care about. And I want to be present with as many senses as possible. At the same time, and that is just as important, I want to be as non-present as possible with certain things I don't care about, like spam, and activities I choose not to be part of at the moment. Communication technology is merely one possible way of accomplishing some of that.