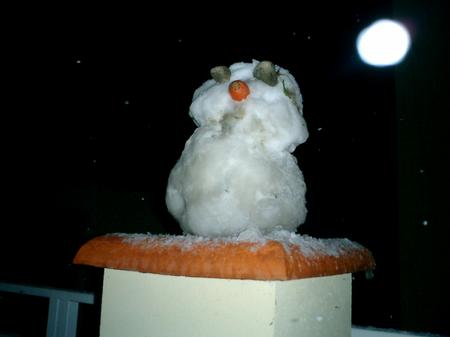 by Flemming Funch

It snowed last night. It snows very rarely here, so it is an event every time. We rushed out and had a snowball fight and made a snowman before it melted again.

Then, after we got in again, a little later, I walked outside and realized that somebody had made off with our two bicycles. Locks and all. Which is a bummer, as that is basically our transportation, and the cost isn't exactly trivial for us. Plus it is always an uncomfortable feeling when somebody has invaded your space and stolen your things. Here we're talking: behind a big closed iron gate one needs to roll aside, and at the end of our driveway around a little corner.

We had otherwise been snickering about the French paranoia about burglars and thieves. Everybody seems to lock their gate with a key whenever they go in or out, and they live behind closed shutters, and, I'm sure, multiple locks and alarm systems. And warn everybody who will listen about the dangers of leaving anything not secured, and how bad people are roaming everywhere. Despite that we haven't seen any. OK, we roll down the shutters too when we leave. And we lock the front door when we leave, which we didn't take very seriously in the U.S., where we didn't even think much about leaving a car unlocked in the street. So here we're a little more secure, but locking the gate seemed a little excessive.

Guess we have to change our mind a bit. Lock the front gate all the time. Chain bicycles to something stationary behind the gate. Maybe I should dig up that box of X10 video cameras I never have gotten around to playing with, and watch the perimeter at all times. Make sure anybody who touches the fence gets electrocuted. Dig a mote filled with piranhas. I don't know.