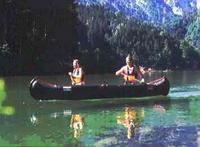 by Flemming Funch

An old friend from highschool wrote to me recently. Actually it took me a moment to place who he was, as I hadn't thought about him for a moment since then. But we were hanging out a bit even if we weren't in the same classes. He was a friendly sort of oddball, who was restoring veteran motorcycles and driving them around, mostly in his front yard.

He had recently been to some kind of anniversary gathering in our old school. I don't know why nobody invites me to those things, other than that they never bother to look on the Internet, but that's another story. Anyway, as he was looking over the list of people there, he realized that most of our schoolmates had the equivalent of Danish .gov addresses. I.e. they were working for the local city, county, government agency of various kinds. Good, solid very boring jobs, close to where they grew up. Paper pushers, planners, looking like their parents.

And my friend here had led a rather different life. Lived in a dozen different countries. The deserts and jungles of South America, being a deepsea fisherman in Alaska, leading construction projects in various exotic places, being a community agriculture activist in South Africa, marrying a girl he met in Cuba. Speaking a whole bunch of languages. Wrote a book about his life.

So, he wrote to me because he found my weblog. The way was interesting enough, as he was looking up "Cede & Co" to see who really owned his company, and he ended up on one of my pages, and recognized my name.

But, to get to the point, he was happy to find that there was at least one other person who had been leading some kind of interesting life. OK, he's obviously ahead of me in terms of exotic places, but it is not a contest, and the point is how one leads one's life. Would it bore you to death to stay in the same stable job for most of your life, doing very ordinary things, getting a good mortgage, and feeling very engaged because you join the parent council on your kids' school? Or is life an adventure, a mystery, a challenge, a journey of transformation? Not that one has to put down half of the western world, but I tend to get along best with people who are on some kind of adventure.