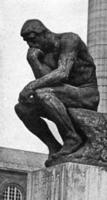 by Flemming Funch

Lilia Efimova on "From creative mess to products (blogs and wikis for thinking)"

"Thinking of blogs vs. wikis to support thinking. For me blogging is easier - it shows how ideas unfold over time and somehow I don't have a problem when I create new page (I do think twice in wikis - because it increases navigation mess). Blogging is also about permalinking and hypertexting half-baked ideas...

The problem is that at the certain moment there is a critical mass (critical mess ;) of bits related to a theme. At this moment you need a least an overview of all of them and then a way to construct something more coherent. Wikis are great for that. It's much easier to get an overview of ideas (if they collected on one page :), edit them into something better or even go for refactoring the whole thing.

But then you get the clarity of a final product and lose an overview of path that took you there. And I'm getting more and more convinced that process and artefacts on the way is as important as the final product."
I myself haven't so far really gotten into Wikis. Even though I'm missing a place to put subjects together in a more coherent way. Blogs work really well for me to write in, exactly because I don't have to think of where something fits or where I'm going with it or even if it is a complete thought. It is a somewhat divergent tool. Happily goes in many directions. But also keeps a linear record, and is a unified pool to find things in later. But then I'd also like convergent tools. Tools that help me make things come together into more clear and complete ideas, more full projects, functional spaces for collaboration, etc. I'm not sure Wikis automatically facilitate that, although they can of course. They can be whatever one makes them. Including something that goes off into a zillion directions and where one can't easily find the pieces again. Or focused spaces where one or more people keep refining what they know.

Then about "process and artefacts on the way". More channels, in part. And ways of stepping through what happened, along various dimensions, most significantly chronologically. A blog shows things that happen (are posted) chronologically, and it includes credits of where posts come from, or what they respond to. Which other tools like Technorati can come and catalog. But it probably doesn't show us the whole process of how the posts come about. Wikis keep track of successive changes, i.e. revisions of pages, but I'm not sure anybody uses that to chart the process of increased value accummulation.

Need tools that can better implement guiding patterns. A blog is one pattern, of a continous stream. A wiki is a free-form format where you can come up with your own pattern, but it is hard to guide it. Other tools might provide gentle guidance that inspires certain things to happen, and that include sufficient tracking of how it happens, to be able to examine the process after the fact or along the way.