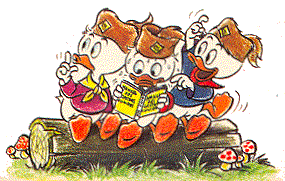 by Flemming Funch

When I was a kid, a relatively significant portion of my attention was dedicated to Donald Duck magazines. The new issue of Anders And (Donald Duck in Danish) came out every Tuesday. I don't think there's any issue between 1960 and 1970 I hadn't read a number of times over. And, well, the best ones were the old ones. Original Carl Barks stories, particularly. I haven't noticed any equivalent magazine in the U.S., although they obviously existed in earlier times, so it seems to have been a bigger deal in Europe. "Anders And & Co" still comes out every week in Denmark. Disney licensed out the characters, so most of the content has been created in Europe for many years.

As everybody knows, Donald Duck has three nephews: Huey, Dewey and Louie. They are members of the Junior Woodchucks, which is a kind of boyscout group. And, now, to get to the point, they have a most useful accessory: "The Junior Woodchucks' Guide Book". I only just looked up what it is called in English. I know it as "Grønspættebogen", which means almost the same thing in Danish. Anyway, the cool thing is that this book seems to have the answer to anything. Not just boyscout stuff about tying knots and starting fires. No, just about anything anybody wants to know. Just look it up in the guide book. Translations of ancient languages, advanced chemistry lessons. How everything works. The history of everything. I'm not sure if it promised to contain everything, but it always seemed to provide some useful knowledge whenever Huey, Dewey and Louie looked anything up in it. Which they would cheerfully read aloud, and it would most of the time get them out of trouble.

According to one of the story lines, the guide book was written by Guardians of The Lost Library of Alexandria.

Naturally I would like one of those books. I would really like the knowledge of the world to be presented in such a handy format.

The closest thing to it in the real world is an encyclopedia. Maybe Wikipedia is what comes closest on the net.

But it is also a certain philosophy, of presenting knowledge in a simple and immediately useful how-to format. We find that for example in survival manuals. On my bookshelf is the U.S. Army's Survival Handbook. It explains how you would survive in wilderness. If you find yourself stranded far from civilization, but you happen to have the book with you, it will explain how to build a good shelter from branches and leaves, and it will tell you what kinds of plants you're likely to be able to eat, and what you should do if you get bitten by a snake.

So much of our knowledge is inaccessible. It is embedded in vastly specialized fields with complicated terminology, which it takes years to master. Our organization of knowledge is so distributed and specialized that it wouldn't take much of an interruption of our civilization to lose most of it. How are metals extracted from the earth? How do I make electricity? I have vague ideas about much of it, but if I had to start from scratch, I wouldn't get very far.

There isn't any terribly good reason we shouldn't have most of what we know handy in an encyclopedic overview format.

Personally, the way I learn best is to get the big overview first. Some people learn differently, but as far as I'm concerned, I'm confused if I can't get the big overview executive summary up front. Give me the key points, and then I have a framework to fill the details into.

I can't count the number of times I've had to read some big, long text in order to realize that it adds up to something quite simple that could have been said in a few sentences. I'd like to have those sentences up front please.

There are plenty of books and websites that do that, of course. I guess I'd just like to be better able to find them first.

Or I'll just have to join the Junior Woodchucks.