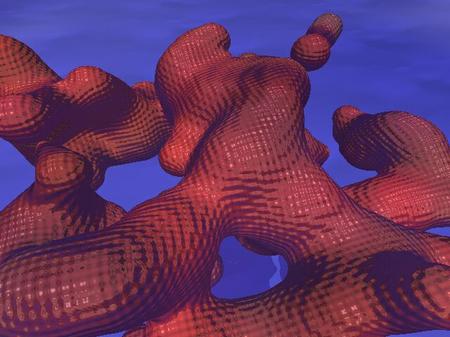 by Flemming Funch

On Blog of Collective Intelligence Jean-Francois Noubel mentioned an interview with Ken Wilber where he talks about the distinction between individual and social holons:
Briefly: individual holons are holons with a subjective interior (prehension, awareness, consciousness); they have a defining pattern (code, agency, regime) that emerges spontaneously from within (autopoietic); and they have four drives (agency, communion, eros, agape). Examples of individual holons (or compound individuals) include quarks, atoms, molecules, cells, organisms....

Social holons emerge when individual holons commune; they also have a defining pattern (agency or regime), but they do not have a subjective consciousness; instead, they have distributed or intersubjective consciousness. Examples include galaxies, planets, crystals, ecosystems, families, tribes, communities.... Both individual and social are holons, and they both follow the twenty tenets. Actually, individual and social holons are not different entities, but different aspects of all holons, since all holons have an interior and an exterior in singular and plural forms (the four quadrants), but they are indeed different aspects that cannot be merely equated.
And as he points out, when you confuse these with each other, it becomes a mess. Example: when you decide to lift your arm, and you lift it, all the cells in your arm go along. None of them decide to disagree and go somewhere else. They are parts of your arm, and subject to your centralized will. But a society works very differently. People are not parts, but members, with their own individual wills. Rulers with fascistic tendencies will often try to make society work as if its members are parts that simply are cogwheels that have to go along with the program, and that never really works.

The idea is that an individual holon has a coherent sentience, whereas a social holon is some kind of collaborative negotiation between its members.

Of course all holons have both aspects at the same time. The point is to not confuse the roles with each other, or it becomes apples and oranges.

Now, he's right of course, and it is as usual a brilliant way of putting it. But it also makes me think.

In a society, yes, it obviously isn't just a top-down hierarchy, no matter what kind of fascist police state dictator is trying to run it. But groups still act in many ways as individual holons. Just not in that predictable one-dimensional manner.

If a thousand people decide to do the same thing at the same time. Like go to a concert, or do some kind of smart mob happening. All the people who showed up are the people who showed up. 100%. To act as a unit, there's really no requirement that the component parts have been ordered in advance to do so by one of the units. When you lift you arm, most of the time it would be impossible to pinpoint exactly where that order came from, and what or who exactly made it. You lift you arm, because it somehow seems right at the time. Millions of cells getting in sync is what happens and various other faculties being in sync with that, including some kind of mental meaning and maybe idea of causality. Likewise, a thousand people find themselves in the same place at the same time, because it somehow seemed right and they were in-sync. Thus any concerted group action carries aspects of being an individual holon. It is just a matter of a different kind of continuity and more dimensions to it. Next week some of the same people might show up as part of another group of thousand people, or some other number. And that in itself might be very coherent. The people who show up, show up. The people who don't, don't. That in itself is not subject to a lot of negotation or disagreement.

The atoms and the cells in your arm aren't the same as they were yesterday, so that analogy breaks down quickly as well.

The model that a mental unit makes a decision and then some sort of body or body part carries it out - that's just too simple. For practical purposes, when I lift my arm, it might seem to work like that, and be practical to think of it that way. But it is really a lot more complicated than that. Or simple in a different way. For social systems, it doesn't work like that, so trying to make it so is a failed political ideology to start with.

Some kind of multi-dimensional swarm model might turn out more useful. The atoms in my body happen to be swarming in that format right now. But yesterday and tomorrow they're different. A hundred years ago, or a hundred years from now, those same atoms will be part of all sorts of different things in different places. At a sub-sub-atomic level it is even more wild. Particles zipping around between multiple universes and through different times. Nothing ever stays one unit, individual or social, for any meaningful length of time, if we look at it at that level.

Anyway, I think they're still useful distinctions. And part of the point of Jean-Francois's post was whether and how individual qualities scale up to social qualities.
For instance I recently asked myself whether a group of wise individual would emerge and act as a wise group. Or to put it in a more general frame, can a group benefit from the individual "social qualities" of its participants? My first reply was « yes », since we naturally advocate that if we want a group to have such or such quality, individuals need to get these qualities first. Then the second reply that came to my mind was: "maybe not"...
A group of smart people doesn't necessarily become smart. A group of people with the best of qualities, well-intentioned, experienced, might or might not become useful. Often, what the group is, and how functional or successful it is, doesn't relate directly to the qualities of its members. Or, rather, we often can't guess at the relationship between the individuals and the group.
On a more practical perspective, is it possible to envision emerging properties as the result of the mastering of these properties at an individual level? Do these properties have to be value-oriented? Will a group of wise individuals turn into a wise group or can it turn in a global mess with umpredictable side effects?
Maybe there could be ways of individually mastering certain qualities, which then translate into emergent properties of a very well functioning group. It probably just isn't the kind of qualities we normally would cultivate individually. A different kind of qualities.

Some people typically do very well in being catalysts or collaborators in groups. But usually only in certain kinds of groups. If a person has well cultivated qualities and skills that match what fits with the other members and the group itself, then it works. But not in groups with very different kinds of members. Few people have any clue how to be part of the success of ANY group. And maybe the attempt of cultivating that would be the wrong way of looking at it. Oxygen and Hydrogen form water, and they can form certain other things too. But there are many more things they certainly can't form. There's no point in a Hydrogen atom trying to be a Uranium atom.

So, it might be more about how one finds who and what one fits with - the people and circumstances one will resonate with, and where collective intelligence will emerge - rather than trying to become a perfect component in everything possible.

And what fits might change from moment to moment. So it is about being able to find it right now. Right now there are some things you can do, some ways of doing it, some people to do it with, that would produce absolutely marvelous results, rather easily. The Flow. And there are lots more constellations that just wouldn't lead anywhere great. If you have pre-conceived over-simplified ideas about those having to work, it makes it worse. If you are flexible and multi-dimensional enough to be open to something different than you know, and your perceptions are keen enough to notice where the energetic point of leverage is right now, it might be very different. That's very different from what both individual and social holons were supposed to be about. It's neither. It's an ad-hoc holon willing to re-invent itself anytime. Being part of something bigger than itself, where there's the most synergy, action, excitement. And conscious enough to catch a different a better wave when it appears.