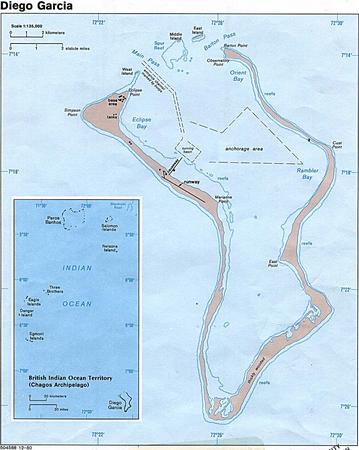 by Flemming Funch

If you wanted to hand over a set of nuclear missiles to a volatile middle-eastern government, where would you do it in suitable secrecy? The answer is the remote island of Diego Garcia in the Indian Ocean. If you remember, that's where the Bush administration equipped Israel's submarines with nuclear armed harpoon missiles last year. story.

So, what if you wanted a place to quietly store top terrorists you had captured, being free to use any methods you can think of to squeeze information out of them? Including torture, drugs and hypnosis. Diego Garcia is again a good answer. Article here at Globe Intel.

What is convenient is for one thing that the island is very remote, and that its previous inhabitants have been forcefully removed, so there's nobody there to complain. But secondly it is that the island is a British colony. Apparently a key U.S. legal ruling states that violations of American statutes that prohibit torture, degrading treatment or violations of the Geneva Convention will not apply "if it can be argued that the detainees are formally in the custody of another country". Convenient, eh. So if these guys are housed by the British, the Americans don't have to play nice any longer.

A problem is of course that the British laws certainly don't either allow for using torture against bad people. Distribution of nuclear weapons is probably not particularly kosher either. Anyway, it is Tony Blair's problem, not George Bush's, as it is done on British soil. Could be an embarrassing situation if it got a lot of publicity. But so far they're getting away with it.