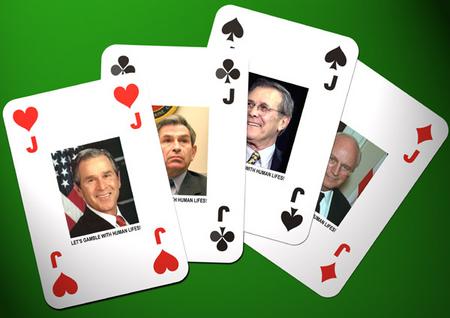 by Flemming Funch

Al Qaida couldn't dream of a better government in the U.S. than George Bush's. They're a splendid help in the direction of destroying the United States, in providing plenty of new places to have terrorist bases, and plenty of new well-motivated recruits. And Bush could sure use another terrorist attack to boost his ratings. Quite some win-win synergy there. So, what do you say are the chances for that happening before November? Or, even better, around the election itself? Bush's people seem to be planning for just that. Cancel the election, declare a national state of emergency, and just stay on as a dictator. That's a great plan.

It would be quite appropriate if the U.N. would monitor the U.S. elections, like a group of congress people proposed. The U.N. unfortunately said no. And the Bush government wouldn't have let them, of course. The system probably wouldn't stand up to any kind of organized scrutiny. You know, faulty voting machines without a paper trail, run by companies that support the Republican campaign. Plus the long list of other tricks and irregularities. The kind of stuff that Congress strikes from the record if somebody dares to mention it.

Anyway, just wanted to complain a bit. I'm no longer there, but the state of the U.S. unfortunately affects the rest of the world greatly.

Oh, and for something more to be freaked out about, Thomas mentions this story about a lady who believes she experienced a dry run for a terrorist attack on a plane, and the apparent inabilities for the system to respond well to that, because of rules for political correctness, etc. For example, an airline can't take aside more than two middle eastern people at a time, or they get big fines.