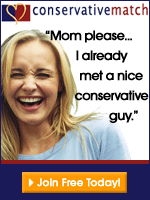 by Flemming Funch
Stop Dating Liberals!

Are you tired of arguing on your date with a liberals?

Do you get sick of hearing your boyfriend or girlfriend bash President Bush?

Now there is hope!

Join the ConservativeMatch.com community and find thousands of conservatives singles just like you.

Don't wait! Join Free Today!
I thought it was a joke at first, but no, ConservativeMatch is real. So, if you the range of your political horizon is Traditionalist, Very Conservative, Conservative or Moderate, then you might find your love here. It will also help matters greatly if none of you are very bright. On second thought, I'm not sure if it is wise to help you procreate, so maybe you should stay home and study the bible and watch Fox News instead.