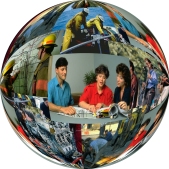 by Flemming Funch

I kind of like taking personality tests. Probably because I'm searching for a more clear and simple idea of who and what I am. Most of them probably helped a bit and came up with something I could agree with. Didn't make much pervasive difference though. They're mostly too simple, or telling me things I already know. Dividing all of humanity up into 4 or 8 or 16 types might have use, and might help us notice our differences, and be able to communicate better once we're aware of them. But they don't really tell us who we are.

And most of the well-known tests are somebody's copyrighted, heavily guarded intellectual property and business. I.e. some psychologist invented it, put his name on it, and charges 100 bucks for letting you answer a bunch of multiple choice questions and getting the canned answer. That should raise a bunch of red flags right there. Trying to own a personality assessment, and trying to stop other people from using it, is kind of a strange thing. Even if they're good. Here's an article describing different tests. Hey, maybe I should make my own test. The Funch Holographic Mind Spectrum Instrument. $500. And if you don't pay, you just don't have a type, hahah.

I think I prefer more open, but complex and difficult systems. A good astrologer can talk to me for hours about myself, revealing lots of insights I wouldn't think anybody could know. Or there are systems that simply outline many different kinds of programs people might be running, and ways of dealing with them. Like, NLP has Meta Programs. For example, one might have a preference for moving towards desirable things or for moving away from undesirable things. Or one might be internally focused versus externally focused. One might insist on making one's own decisions or one might require the guidance of others. One might have a preference for looking for options and possibilities versus looking for what must be done and what the procedure is. One might sort the world by differences versus sorting it by similarities. One might be active or passive. Etc. And one might use different of these programs in different situations, or one might use them in a certain sequence. For example, I have to work through different possibilities before I can arrive at what needs to be done. I want input from others, but I ultimately want to make my own decision. Other people do it in the opposite order. Anyway, those are more tools than they're personality types, even if some people might keep a certain constellation of them through their life.

Anyway, what I wanted to mention was the idea of Jung's that one gets to be in trouble if one isn't living according to one's type. I.e. if one tries to be somebody else than one really is, and thereby one "falsifies" one's personality type, by presenting a different one than what really comes natural. It is implied that we'd have one personality type which would be stable and unchangable through our life, and that our life would be most happy and smooth if we stay true to it. And if we try to live another type, our life will be stressful and ineffecient.

Now, again, I'm not sure I believe we really ARE one of 16 or so types. But there's something to the idea of staying true to who we really are. We might experience being in the flow if we're in harmony with our own nature, and we might experience hardship and stress if we don't.

Here's a brief overview history of Jung's personality types and the idea of falsifying type.

A number of well-known tests are based on Jung's categories, but leave out any assessment on whether one is just pretending to be that or not. The Myers-Briggs test, or rather the Keirsey Temperament Sorter, which is more comprehensive, helps people find out whether they're predominantly an (I)ntrovert or an (E)xtravert, whether one is (S)ensing or i(N)tuiting, (T)hinking or (F)eeling, (J)udging or (P)erceiving. One ends up with a four-letter type, one of 16 different constellations. When I take it, I'm usually split on Introvert and Extravert, or it might go either way depending on what mood I'm in. But let's say I'm ENTP. That is the Inventor type. Those are non-conformists who are probing for new possibilities, and who pragmatically work on implementing new solutions. Now, looking over the types, there isn't any other one that would suit me better. So I might not have fooled myself in terms of my answers. I'd know nothing better than sitting around exploring interesting possibilities and inventing new things all day. And I guess I do that part of the time, and that's great. But the more stressful parts of my life might be when I do everything else. Which I might not have to if I had been really successful in what I'm good at. I.e. if I actually had invented something and gotten it out to the world, I'd probably be deriving an income from it, and I could get quite some milage out of it. So, instead, I've spent a significant portion of my life trying to do work for other people, conforming to their needs, and sort of muddled through, trying to keep up with paying rent and taxes and things like that.

The point is not necessarily the typing system. But what if I somehow, by any means, learn enough about myself and how I work. And I actually respect it and live my life accordingly. If I'm good at starting things, but not at continuing them, well, then I should be starting things, and get other people to continue them. If I thrive on exploring different subjects and talking about it, then I should arrange my life so I do that. Doesn't matter what exactly our modus operendi is. What matters is that we do what works for us. Seems so obvious, but we so easily miss it.

The trouble is of course that we usually need some of that which we aren't good at. For example, most of us need to either structure that which we're good at as a viable business, or we need a job that allows us to do it. And if the business-making part is not one of those things that realy flows for you, you'll need somebody else to help you with that. Or you might be really frustrated if you try to force yourself to do those things that are needed, even though it isn't you.

In an ideal world we'd all be doing exactly that which we're excited about and really good at. That which really flows for us. And we'd be free to do mainly that. And we'd discover to our delight that those things we're good at dovetail really nicely with what some other people are really good at, so we can complement each other, and form teams.

Maybe it already is an ideal world, and we just haven't noticed. So we go around trying to pretend to be something we aren't, trying to do things we'll never be good at, when we really ought to let somebody else do those things. And when other people really could use that I started doing my particular part a little more directly, rather than futzing around.

I'm looking for the magical button. Something that makes me and others just snap into their true self, acting accordingly. A test or divination or process might give hope that it will make it happen easily. I suddenly have an epiphany and realize what I'm really like, so clearly that I start living my life that way. And everything then is flow and synchronicity and I effortlessly make great things happen, now that I realized what it was I was supposed to be doing. I wish it were that easy. No test or workshop has done that for me so far. It might take real work. Probably on an ongoing basis. But one never knows. Life might surprisingly turn out to be easy, if one just runs into the missing piece. And the missing piece might be you.