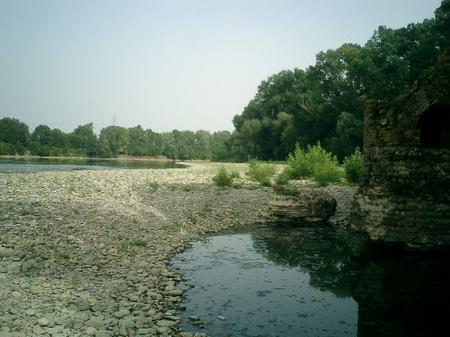 by Flemming Funch

One of our regular activities is to go to runs with the local Hash House Harriers club. One runs or walks for an hour or so, and then one drinks beer, and there are various crazy rituals involved in both. And one meets some other fun people, mostly expats.

Today was the second time we were the "hares". The hares find a location and lay a track one needs to follow, which is marked with flour or chalk marks. Just finding a location isn't all that easy. It should preferably be a new and different place each time, and one should be able to mark a 3-6km walking path, and a 6-10km running path. Which preferably should be a bit adventurous and non-obvious.

And now, what is interesting is that when you look at an area as somebody who needs to lay an interesting path, you discover all sorts of things you might not have if you were just passing through. You start following trails you don't know where lead, and get surprised when you find out. You try to connect up differerent areas, to make your trail work, and are sometimes surprisingly successful in finding paths when you thought there were none. You walk along a stream where there's hardly a path through the heavy growth, and you find ruined old bridges, abandoned sheds, un-noticed infrastructure, quiet ponds, dried-out waterfalls, and then you come out on a street next to somebody's house, by what you would have assumed to be just a driveway if you had come from the other side.

It is fun to find hidden trails, and new entrances and exits.

Today's run was mostly in an area called Les Quinze Sols. It is called that because around the time of the French revolution, the area got divided into little parcels that were sold for 15 Sols. Sols were a monetary unit at that time. 15 bucks. Later it became a really depleted area, as it was exploited in various ways, for example to extract sand. Now there is a 50-100 year project going on of reverting it to be a well-functioning natural eco-system. Which seems to be going well, as it is quite a jungle, and lots of people were fishing. Our path also went through the ruins of an old mill, out in the Garonne river.