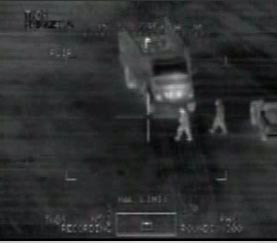 by Flemming Funch

Not that I'll make a habit of it, but it is not the kind of thing the media tend to cover much, so somebody might have missed it. A chilling way of getting a sense of some of the routine activities of the U.S. military forces in Iraq is to watch some of the leaked videos taken from helicopters while they essentially fly around and murder fairly random and sometimes unarmed people who happened to be walking in the wrong place. The latest from Falluja. Video. The audio is the most chilling part. The pilot reports that a large number of people are walking on the street and asks over the radio if he should "take them out". And the instant answer is "yes". Not armed people, mind you, just people. A rocket makes an end to them, whoever they actually were, and he exclaims "aw, dude!".

And an older one from January which actually appeared once on ABC. An Apache takes out three people, which to me look like farm workers walking around between a tractor and a truck. I'm of course not trained in quickly determining what some grey shadows seen through a night vision camera really are doing. I'm not sure the people in the helicopter are either. I do understand some things about body language, though, and it is obvious that the people on the ground didn't seem to think they had anything to hide from before the helicopter started shooting at them. And blowing away wounded people who're trying to crawl to safety certainly isn't according to the Geneva convention, if any of the rest of it is.

It shows the horror war easily becomes, particularly when one side is hovering in the air with high tech weaponry, but only a fuzzy b&w image on the screen, and the other side is unknown. It easily becomes to just kill anything that moves that looks a little suspicious, anything that possibly, potentially, maybe could be somebody who might have hostile intent. Because they maybe live in the general area where somebody else blew up somebody from your side the day before. But a lot of the time they're just farmers mounting their plough or parents taking their kids to school. War is never going to make sense.