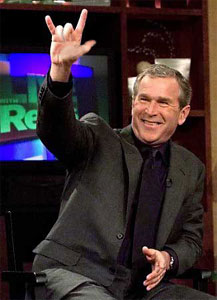 by Flemming Funch

Article in the N.Y.Times by Ron Suskind: Without a Doubt (registration required). A sober and brilliant analysis of what I would agree is the most disturbing and dangerous aspect of George Bush's presidency. Essentially that the major program points are based on his personal "messages" from God and that there's nothing to talk about, nobody else to listen to, and no room for new facts, or old facts, or differing opinions.
This is one key feature of the faith-based presidency: open dialogue, based on facts, is not seen as something of inherent value. It may, in fact, create doubt, which undercuts faith. It could result in a loss of confidence in the decision-maker and, just as important, by the decision-maker. Nothing could be more vital, whether staying on message with the voters or the terrorists or a California congressman in a meeting about one of the world's most nagging problems. As Bush himself has said any number of times on the campaign trail, "By remaining resolute and firm and strong, this world will be peaceful".
Personally, I'd much prefer *anybody* starting out with *any* kind of outrageous program points, as long as they would adhere to a principle of examining the facts and talking with those who need to be talked with, and then make decisions based on that. Open dialogue. Listen to what people have to say. Be willing to learn about the things you don't know. Well, the article is full of horrifying inside stories documenting that what is there now is a totally different scenario. For probably the first time in U.S. history. It is also puzzling what the hell happened. Apparently Bush used to be quite a different man, a pragmatic down-to-earth kind of guy, quite able to improvise and have a free-flowing dialogue and debate the issues. It used to be one of his strong points. Something changed, suddenly no dissent was tolerated, and he became the Messiah. And a Zombie. Now, listen to this part:
In the summer of 2002, after I had written an article in Esquire that the White House didn't like about Bush's former communications director, Karen Hughes, I had a meeting with a senior adviser to Bush. He expressed the White House's displeasure, and then he told me something that at the time I didn't fully comprehend -- but which I now believe gets to the very heart of the Bush presidency.

The aide said that guys like me were "in what we call the reality-based community," which he defined as people who "believe that solutions emerge from your judicious study of discernible reality." I nodded and murmured something about enlightenment principles and empiricism. He cut me off. "That's not the way the world really works anymore," he continued. "We're an empire now, and when we act, we create our own reality. And while you're studying that reality -- judiciously, as you will -- we'll act again, creating other new realities, which you can study too, and that's how things will sort out. We're history's actors . . . and you, all of you, will be left to just study what we do."
Now, that's disturbing. Also because it is right. They directly aim for creating a particular reality. And, yes, then they can move "ahead" much faster than anybody who has to stop and examine facts and ask people what they want. It works. It is an amazing piece of work. Brilliant piece of mass manipulation. The trouble is just that the reality they're manifesting is a pretty horrible one. And since it wasn't really based on what the world needed, or on any actual situation in our reality, for that matter, it probably won't work at all. But it can all stick together for a surprising amount of time, if you have confidence.
George W. Bush, clearly, is one of history's great confidence men. That is not meant in the huckster's sense, though many critics claim that on the war in Iraq, the economy and a few other matters he has engaged in some manner of bait-and-switch. No, I mean it in the sense that he's a believer in the power of confidence. At a time when constituents are uneasy and enemies are probing for weaknesses, he clearly feels that unflinching confidence has an almost mystical power. It can all but create reality.

Whether you can run the world on faith, it's clear you can run one hell of a campaign on it.
Apparently it speaks to quite a large percentage of the U.S. population. The ones in the middle. Hardworking, simple, churchgoing folks who don't read the New York Time, and who wouldn't dream of reading alternative news sources on the net, and who don't care much about facts. But they care about faith. And the right buttons have been pushed, and they believe Bush has been chosen by God. Scary. Very scary.