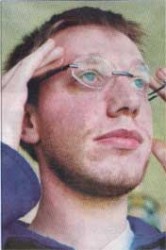 by Flemming Funch

From the Guardian:
Daniel Tammet is an autistic savant. He can perform mind-boggling mathematical calculations at breakneck speeds. But unlike other savants, who can perform similar feats, Tammet can describe how he does it. He speaks seven languages and is even devising his own language. Now scientists are asking whether his exceptional abilities are the key to unlock the secrets of autism....

Tammet is calculating 377 multiplied by 795. Actually, he isn't "calculating": there is nothing conscious about what he is doing. He arrives at the answer instantly. Since his epileptic fit, he has been able to see numbers as shapes, colours and textures. The number two, for instance, is a motion, and five is a clap of thunder. "When I multiply numbers together, I see two shapes. The image starts to change and evolve, and a third shape emerges. That's the answer. It's mental imagery. It's like maths without having to think."...

Last year Tammet broke the European record for recalling pi, the mathematical constant, to the furthest decimal point. He found it easy, he says, because he didn't even have to "think". To him, pi isn't an abstract set of digits; it's a visual story, a film projected in front of his eyes. He learnt the number forwards and backwards and, last year, spent five hours recalling it in front of an adjudicator. He wanted to prove a point. "I memorised pi to 22,514 decimal places, and I am technically disabled. I just wanted to show people that disability needn't get in the way."

Yeah, you're doing that alright. The mind is an amazing thing. Of course, what savants can do indicates that it ought to be possible for anybody, if you knew how. Unfortunately, however amazing it is that he describes what goes on as he does it, that still doesn't make it teachable. Because he doesn't use any clever formulas or anything. But he obviously uses a kind of synesthesia that works, without much effort.