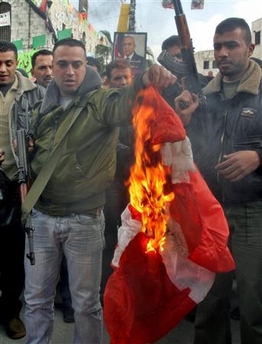 by Flemming Funch

I didn't think I would get to see that. Muslims burning Danish flags in the street. OK, maybe because Denmark joined Bush's ill-conceived invasion of Iraq. But that isn't it at all. We're talking about cartoons. Yahoo News
BEIRUT, Lebanon - The controversy over Danish caricatures of Prophet Muhammad escalated Monday as gunmen seized an EU office in Gaza and Muslims appealed for a trade boycott of Danish products. Denmark called for its citizens in the Middle East to exercise vigilance.

Denmark-based Arla Foods, which has been the target of a widespread boycott in the Middle East, reported that two of its employees in Saudi Arabia were beaten by angry customers. Aid groups, meanwhile, pulled workers out of Gaza, citing the threat of hostilities.

The 12 drawings — published in a Danish paper in September and in a Norwegian paper this month — included an image of the prophet wearing a turban shaped as a bomb with a burning fuse. Islamic tradition bars any depiction of the prophet, even respectful ones, out of concern that such images could lead to idolatry.

Danish government officials have expressed regret over the furor but have refused to get involved, citing freedom of expression. The Jyllands-Posten newspaper has refused to apologize for publishing the drawings and has said it did not mean to insult Islam.
OK, maybe it wasn't the greatest idea in the world to ask some cartoonists for pictures of the Prophet Mohammed. But, hey, Denmark is a free country where nobody will get away with taking themselves too seriously. So, if you want to make a funny, irreverant or insulting picture of the Pope, Queen Elizabeth, Jesus, Elvis, George Bush ... or Mohammed, then... so what. Might be funny, might not be.

But a lot of muslims apparently feel that their god gets gravely insulted by Danish cartoons of his prophet with a funny hat on. Which, however much I'd like to respect a diversity of beliefs, I can't really find a way of looking at it that doesn't make me question the sanity of whole lot of people.

I think that what these folks maybe don't understand is that Denmark is a country where the government doesn't control the press. Maybe that's a novel idea. Yes, if the prime minister had made fun of Mohammed, that would have been very dumb, and he should probably apologize, for the sake of good diplomacy. But there's no way he can give an official apology for a cartoon in a newspaper, and he shouldn't. So, now Saudi Arabia has recalled their ambassador, Libia is closing its embassy, Egypt is refusing a loan they otherwise were eager to get, and Danish products are being boycotted.