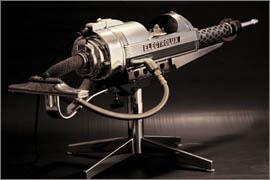 by Flemming Funch

"Hello, I was wondering how I can buy one of the mind control devices on your website. I can't see how to put them in the shopping cart."

It was a lady calling me from England this afternoon. I was a little puzzled. Which website might that be? "Ming.tv" she said. Hmmm, I frantically search through my postings.... Aha, it turned out to be this article. A list of patents for rather horribly sounding devices for remote control of brainwaves, ultrasonic weapons, subliminal nervous system manipulators, and other goodies.

The lady wanted to put a couple of these in her shopping cart and check out with her visa card.

Which of these items might she specifically be interested in, I inquired. Well, she seemed to think the whole batch of them sounded rather nifty. Clearly a very motivated shopper.

Maybe she has a boyfriend who isn't quite behaving right? I didn't really succeed in figuring out what the driver was. I mean, you don't exactly pull out an ultrasonic brain wave modulator at a party, to start a fun conversation. Or do you? Is it something to have in your handbag, in case a little crowd control suddenly becomes necessary? You know, when a horde of flesh-eating zombies are charging you in the mall.

I patiently tried to explain that this was a list of patents on file at the U.S. Patent Office. Maybe somebody has made these, maybe not. If they have, it would be the kind of thing used by the military, to drive Iraqis crazy, or maybe by the police, for crowd control. Or maybe secret government agencies are using them on all of us, to make us Conform, Consume and Obey. But you wouldn't be likely to find them for sale to just anybody online.

She was a bit incredulous, and I had to explain it several times. She thought it was such a lovely idea, and she had a hard time wrapping her mind around the concept that there was no shopping cart and possibly no products. I didn't even bother to try to explain what a blog is.

I wished for a moment I did have some of these for sale. Maybe I could have thrown in a positronic deathray machine, and a few cannisters of nerve gas. I don't know how it is to be a housewife in West Sussex, but I'm always willing to help.