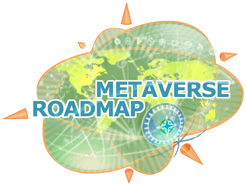 by Flemming Funch

10 years ago it looked to me like the net ought to be going 3D within a couple of years. You know, Cyberspace, where you could fly around in landscapes of data somehow, or virtual realities. But nothing much really happened, other than that the virtual worlds that are there have added more features. But now some people are calling the vision for the 3D web "The Metaverse" and my friends at the Accelerating Studies Foundation have organized a Metaverse Roadmap Summit. Article from cNet here.
PALO ALTO, Calif.--With the spread of online games, virtual worlds and services like Google Earth and MySpace.com, people may soon be spending more time, communicating more and shopping more in complex 3D Web environments.

That's why several dozen of the most influential figures in video game design, geospatial engineering, high-tech research, software development, social networking, telecommunications and other fields gathered here Friday and Saturday for the first Metaverse Roadmap Summit.

The proliferation of social networking sites, online games and virtual worlds may lead to complex 3D Web environments.
Bottom line:

The notion of the so-called metaverse attracted dozens influential tech figures to conceive a path to an Internet dominated by 3D technology, social spaces and economies.

The event, held at the SRI International and produced by the Acceleration Studies Foundation (ASF), was the initial step toward what organizers and attendees alike hope will be a coherent path to the so-called metaverse--an Internet dominated by 3D technology, social spaces and economies.

As such, the invite-only group spent the two days in a series of talks, small breakout discussions and group presentations--all in the pursuit of consensus about what the metaverse, or some would say 3D Web, will look like in 10 years.

In the end, organizers will sift through hours of recordings of the various discussions and plan to produce a public document by the end of the summer that will lay out what they believe were the overriding conclusions and directions of the event. First, though, attendees will pore over two drafts of the document in the coming months to weigh in on the organizers' take on the so-called road map.

Ultimately, the ASF hopes to produce regular small Metaverse Roadmap gatherings, as well as full summits at least every two years.

In the meantime, the organizers have their work cut out for them because agreement about the metaverse of 2016 was hard to find.
Hey, I want it, so you've better agree on something. For that matter, I want more than three dimensions. That's already too little in the real world. So whereas the 2D desktop metaphor we've been stuck with in computers is certainly inadequate, it isn't necessarily terribly much better if it gets expanded to be 3D cities with buildings and rooms with stuff in them. I'd like at least 5D please.