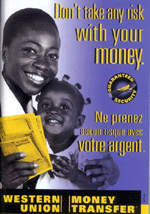 by Flemming Funch

Yesterday I needed to make an important payment, with money I had in my U.S. account. Without thinking it through very well, I decided that the fastest way of getting the money over here was Western Union. "Money in Minutes", you know. Had I thought it through better, I'd have realized that the easiest thing is just to ask my bank to increase my cash advance limit, and then take them out in an ATM. As I'd have to use the same cash advance limit to make a Western Union payment. But I didn't think that through at first.

So, I got my bank to make $1000 available, and went to the Western Union website, and ordered the wiring of the money. And it said it had been ordered, but before the money would be available, I'd need to call them to answer some security questions.

Now, it has been a lot in the news recently that Western Union has blocked money transfers for anybody with an Arab name, in some misguided attempt of hindering the funding of terrorists. Which sucks if you're one of the millions of innocent people named Mohammed. But that doesn't really apply to me.

But it turned out that they've implemented a new elaborate security verification scheme. Which consists of asking me questions based on what they've found in the public record about me. They asked me about 10 different multiple-choice questions. They were basically two kinds: 1. giving me a list of domain names and asking if I've registered any of them, and if so which one, or whether I just don't recognize any of them. 2. giving me a list of addresses, and asking me whether I've had any relation to them, and if so what city they're in, chosen from multiple choices, or whether I don't recognize any of them.

I own lots of domains. But yet they gave me several lists of domains I'd never heard of, which I told them. And they gave me lists of addresses I didn't recognize. Except for one, which was an address I used to have a mailbox at, 15 years ago. And then they gave me a list of 5 cities, to identify which one would go with the address. The problem was that my address at East Broadway was in Glendale, California. But the choices were "Los Angeles", "Riverside", "San Bernardino", and a couple more. I explained that to the operator, that there must be some mistake, the address I recognized was in Glendale, and not in any of those, but if I had to choose one of them, the closest would be Los Angeles.

So, then after all 10 questions like that, he informs me that, sorry, but I don't pass the Western Union expanded security requirements. Which, obviously, are screwed up somehow. Essentially they take the kind of stuff that is in one's credit record, or in domain registrations, and if there's anything that happens to be a bit incorrect, or wrong, or one doesn't remember one's address of 15 years ago, one is out of luck.

Now, the problem is also that they already took my money. I.e. they charged a $1000 cash advance from my account when I ordered the money transfer, which registered on my account immediately. And now the guy says he'll cancel the transaction, but that it is no concern of his how and when my bank responds to that.

A call to my bank, after they opened a number of hours later, reveals that all they see is that I spent $1000 with Western Union, and if anything would be reversed, they'd estimate that it might take 2 or 3 business days. Which in itself is ridiculous, of course. If you can do an instant subtraction, you can of course just as easily do an instant addition. But that is often not how banks work. I can spend my money instantly, but if, say, I do a wire transfer between countries, it takes 5-7 business days. There's no good excuse for that, of course. Anyway, in this case the problem is that my $1000 instead of being transferred "in minutes" got locked up for a few days, and I've already spent my maximum cash advance limit for the day, and despite that there were more money in my account, there was no way of getting at them that day. Oh, I could have gone and bought a huge dinner with it, and VISA would have charged it instantly, but that's a different matter.

So, what sucks? Well, Western Union is really cumbersome, has a dysfunctional set of security requirements, and operators who's job it seems to be to give you a hard time, rather than helping you. And if they don't want your transaction, they keep your money for several days more anyway. Which might well be because the banking system sucks.