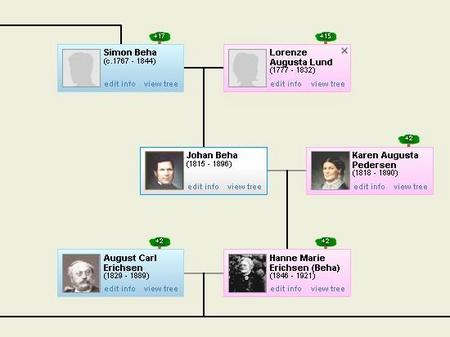 by Flemming Funch

I somehow got hooked on online genealogy research.

My brother and I had talked for a while about researching our family tree, and he had gathered a bit of information from relatives, but it was only after somebody introduced me to geni.com that it really got anywhere. (Thanks, Thomas!)

There are many genealogy websites on the net, but Geni does it in a more accessible Web2.0 kind of way, mainly through a flow chart kind of display one can scroll around in continously. Article about geni in L.A. Times yesterday.

Now, I used to think that family history was an extremely stuffy thing to be into. My stepfather once got very interested in his family tree, filled up a wall with old photos of sour-looking ancestors, and bragged to no end about his 10th great grandfather being Christian IV, king of Denmark. I thought it was so not interesting. Who cares about boring long dead people.

Now my own immediate family ironically thinks I'm equally nutty, happily spending hours looking for ancient ancestors. For those who don't find genealogy interesting, it often seems like a particularly offensive waste of time.

But I'd say it ought to be of some kind of concern, where one comes from, genetically speaking. I wouldn't be here without my parents, and they of course wouldn't have been there if it weren't for their parents, etc.

I've learned a variety of interesting things from this new time-wasting hobby:

- There's an enormous amount of information available on the net. Lots of people have uploaded their family trees. Countries have scanned in and uploaded church records, census records, immigration records, etc. And the Mormons have created enormous online databases of just about anybody's ancestors they can get access to. The result is that I often can look up the name of some ancestor 5 or 10 generations ago, and he or she actually shows up in Google. Wheras my contemporary relatives mostly are invisible on the web, my older ancestors are not necessarily. There's something surreal to being able to track the lives of unknown nobodies of hundreds of years ago from my computer.

- Researching history is an interesting puzzle of trying to piece together what really happened based on a few sketchy visible traces in bad condition. The source materials are hard to find, and their information is often hard to decipher or erroneous. In this case, the gothic writing in church records from the 1700s is a bit of a challenge, and census records are sloppy with the spelling of people's names. Yet, if you find several pieces of information, you can triangulate approximately what happened.

- There are websites like ancestry.com that aim for gathering a database of everybody who ever lived that there's a record of, the One World Tree. How's that for a collaborative application of the Internet?

- This is essentially social networking for dead people, which is kind of weird. You track down people from many years ago, add stuff to their profiles, link them together, and make the whole thing public on the net.

- Imagine how over time more and and more historical information will be digitized, and better search mechanisms will be developed, including for fuzzy searches. In principle, if there's enough data, and the search algorithms were clever enough, a computer program would eventually be able to build your family tree for you, or do similar feats with other kinds of fuzzy historical information. That connects in with the inevitable capability to record and index everything about our own lives in the not too distant future, and the interesting part is that it also can include historical information, from before anybody thought of such things.

- Despite it being fascinating to find them, I must so far conclude that I have had a rather undistinguished family. All the way back to the early 1500s, I find almost nothing but plain people who've been poor, unskilled workers. A relatively few of them have had a profession, like blacksmith, and the most distinguished have made it to be land-owning farmers or civil servants. Nothing wrong with that, I'm quite proud of being working-class, but I'd have expected to have found some kind of nobility by now. Which in part would be fun because I right away would find a lot of ancestors there. But, no, we're mostly talking day laborers who all got 12 kids, half of which became servants for more well-off people. Many died young. If the husband died, the rest of them ended up in the poor house. Life back then seems somewhat depressing seen from here, although I don't know what people actually felt about it at the time.

Anyway, there's (only) around 350 people in my family tree so far, so a lot more to find. So far it has lead from Denmark to Norway, Sweden and Germany, and the earliest ancestor is so far a farmer named Eivind Stangaland from Norway, born 1505.