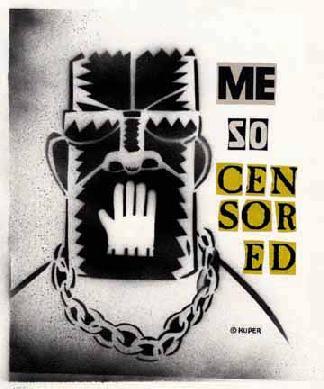 by Flemming Funch

There's an improv game that's useful in getting beyond one's built-in mental censor. It's a well-known kids game, for that matter.

You tell a story by each person providing one word at a time in turn, quickly.

"Joe" - "ate" - "some" - "rotten" - "shoes" ...

The thing is that most adults will attempt to censor themselves in such a game. In particular, most people will have some fear of saying something dirty, and will concentrate on NOT saying "fuck" or "ass" or something. Thus they'll hesitate, because they first need to filter or sort the things that actually come into their mind first. And the funny thing is that people will do that even if they wouldn't think twice about using the same words in a proper context. But if it is an improvised stream-of-consciousness kind of thing, we're likely to pay too much attention to how we'd be perceived, and how people will judge us if we say "balls" every time it is our turn.

And, indeed, if one gets over it and stops censoring oneself, the stories would probably be fairly filthy at first. But once one becomes ok with that, it changes again, and better stories develop.

Our sub-conscious is wiser than we usually are willing to admit. We too often try to be smarter than our instincts and impulses, by processing and filtering our first responses, so that they sound reasonable and logic. And that isn't always better.

"What's the first word that comes into your mind?"

That should take about a tenth of a second. Most people will take several seconds to answer. Not because they didn't have a word right away, but because they have to think about why you might be asking, whether their answer is a good one, and what you'll think about it.

That sort of need to censor what naturally happens is at the root of a lot of evils in society. Repressed urges, moralizing, standing up for things one doesn't really believe in. The old freudian belief that what is sub-conscious is crazy and evil and perverted. It really only is as long as you're repressing and denying it.

And it is also something that blocks our natural creativity. Good creative ideas are rarely the stuff you figure out logically. It is typically something that comes to you. But you'd need to be willing to let it, without second-guessing in advance what it might be.