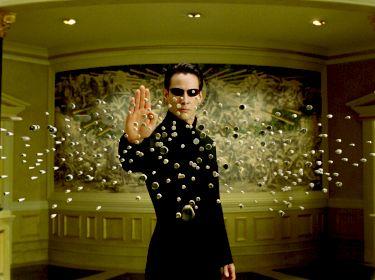 by Flemming Funch

NY Times article about researcher/philosopher Nick Bostrom, who has concluded that there's a high mathematical probablity that we're all living inside a computer simulation, created by technologically advanced descendents of ours in the future. Although his gut feeling tells him that it is only 20% likely that we actually are living inside a simulation.

I always find that kind of conversation stimulating. We very well might live within The Matrix. It might be a computer simulation. Or this might be a universe created by some advanced race from a previous universe. Or the quantum soup universe might just basically work as if it is a simulation, where the reality we experience is the result of our laser beam of consciousness hitting the neutral stemcell type of quantum particiles, which happily will be whatever you want them to be.

But there are things that bother me. Huge fallacies that tend to appear in such a discussion.

There's the very widespread AI superstition that if you make a computer program that is sufficiently complex, it will be conscious and have its own thoughts and feelings. And that this simply is what consciousness is. So that if we make a simulation of your brain, it will think that it is you. That's a load of hogwash, in my opinion, and nobody has succeeded in demonstrating anything remotely like that. The corrolary of the idea is that if you're a sufficiently good simulation, you wouldn't know. Which is a very upside down way of looking at things, and if you believe it, you ought to be worried as well about your soul being stolen when somebody takes a picture of you.

And then there's the God thing. People who have this kind of discussion, of intelligent simulations in artificial realities, are usually atheists, and will usually take time out of their schedule to explain to you why you're a complete moron if you think the universe somehow is intelligently designed, or there possibly could be any intelligence guiding its evolution. And in the next breath we're having a discussion about exactly the same thing, the possibility of you just existing as a simulation in the computer of some advanced alien, who might or might not be benevolent, who might turn you off when he feels like it, if he doesn't like what you do. Uhm, sounds a lot like that God in the sky with the grey beard. So do you believe in it or not?

I don't. But I do believe in the primordial existence of consciousness, and I do believe I exist. The world responds as if me being in it makes a difference, and I can obviously guide my own path to a considerable extent. But I haven't seen any sign of outside influence, of anybody arbitrarily breaking in and changing things. Doesn't mean it couldn't happen, and the whole thing shuts down tomorrow with a "Memory Full" message. But I think it is very unlikely.

I'm sure we in the future will become able to simulate whole universes. But we won't be succeeding in developing artificial intelligence before we have addressed it from a totally different angle. And once we actually figure it out, it doesn't really matter if we're in somebody's simulation or not, and there'll be no need to worry about whether robots will become smarter than us.