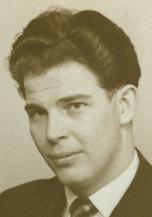 by Flemming Funch

My Dad died this week. I didn't really know him very well, so it is hard to know what to feel. At first I didn't feel anything. And the loss I feel now is maybe more abstract than it is about him in particular.

It is important to have a father. Mine got divorced from my mother when I was 1 years old. I mostly didn't think about what it would mean to have a father, because I didn't really have one who was there. My mother married again, but I never considered the new guy my father, even though he obviously was a continuous male presence.

And I didn't see my real father much. Maybe a total of 2 or 3 times as I was growing up.

I liked him. His particular way of speaking, Copenhagen dialect, from I'm not sure what exact part of town, made me feel somehow safe and comfortable, as if I was used to it from when I was a baby, even though I don't really remember. And not that he ever really acted much like a father, even though he always was friendly.

He didn't do anything in his life that will make any history book. He was a fireman for a while, a taxi driver for a while, and an assortment of other odd jobs that didn't last overly long. I have no problem with that, I'm kind of proud of coming from a simple working-class family.

I wish I had inherited his hair. He still had a full head of wavey dark hair last I saw him, whereas I'm close to bald.

I maybe wish I'd have a lot of memories to talk about. Although maybe it is better not to.

What I'm sad about is maybe the thought of the importance of having a father. I wish I had had a father more. And maybe it reminds me that I haven't always been as present with my kids as I could be. Oh, I'm still here and haven't gone anywhere, but one could of course always have done it better.

At any rate, I'll be in Denmark at the end of the week for the funeral.