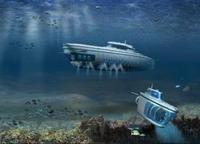 Oh, I'd really like my own luxury submarine. It's my birthday soon. But $78 million is a bit expensive of course. This is the Phoenix 1000.
The Phoenix 1000 is a 65-meter (213') personal luxury submarine. The initial design was originally executed for a client and now awaits a buyer. As proposed, the submarine would constitute the single largest private undersea vehicle ever built, and arguably, one of the most significant personal transportation devices of the century.

This design, which we have named the Phoenix 1000, has more than ample space. The total interior area of the submarine is in excess of 460 square meters (5000 square feet). The significant volume, coupled with very large acrylic viewports, and the potential for relatively large open spaces, results in a vehicle as luxurious as the finest of motor yachts.

Clearly, the Phoenix provides its owner with substantially more capability than a simple yacht - the opportunity to explore the depths of the world's oceans in perfect comfort and safety. The Phoenix is capable of making trans-Atlantic crossings at 16 knots yet can dive along the route and explore the continental margins of some of the most fascinating waters on earth. And unlike surface yachts, when the water gets rough, the submarine can submerge into a perfectly smooth and quiet environment, continuing on toward its destination, providing a ride unsurpassed in quality-unequaled by the finest motor coach or the most luxurious executive aircraft...
I probably shouldn't even be looking in brochures that say 'perfect comfort', 'unsurpassed' and 'ample' in every paragraph. But a luxury submarine is a nice thing to dream about.
[ Dreams | 2007-08-20 21:59 | | PermaLink ] More >