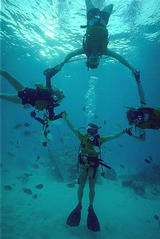 by Flemming Funch

Long article from Timothy Wilken on synergetic wealth and synergetic consensus.
"If we humans synergically reorganized our world, we would all be wealthy beyond our wildest dreams. Today in 2002, if we were to reclaim the gift of all the land and natural resources presently held on planet Earth as individual property. And if we were to further reclaim the gift of Progress from those few who control it today, and then divided these two gifts equally among the 6 billions of us living on the planet, we would discover to our surprise and amazement that every man, woman, and child is wealthy beyond their dreams.

With synergic organization, and careful utilization of the planet's total wealth for the benefit of all humanity, the carrying capacity of the Earth could be maximized to solve all our human problems and meet our all our needs. And this is without any need to damage the Earth, or degrade our environment.

There would never be any need for humans to earn their livings again. Our livings have already been earned by all those humans who lived and died to give us the great gift of progess. Then all humans would be free to spend their time making their lives meaningful by creating more wealth to be gifted to living and future humanity."
And I agree. There's resources enough on this planet for everybody to live affluently, if those resources weren't squandered and hoarded so much. And the resources could be used in collaboration and in harmony with the planet, rather than in the adversarial relationship that exists now. But it would require a dramatically different way of thinking about things, and a dramatically different way of organizing ourselves. Timothy also talks about what he calls 'Unanimous Rule Democracy', which is very much how I think democracy should work as well. Not rule by the majority, not rule by a dictator, not rule by whoever is first or fastest or richest, but unanimous consensus. Which is something we don't see much of in our current society.
"Synergic consensus is not availability to humanity today. We do not yet know how fast it will be at making decisions. But, I predict that unanimous rule democracy will prove faster than majority rule democracy. Synergic consensus elimates conflict. Recall conflict is the stuggle to avoid loss. Conflict is at the very heart of majority rule democracy. The focus of synergic consensus is very different. The entire group knows from the outset that they cannot lose. They are focused on choosing a plan of action that serves the needs of all the members in the group—to choose a plan of action that causes no one to lose. The synergic veto is not invoked capriciously. The only basis for synergic veto is to prevent someone from losing. This is a mechanism to eliminate loss—to choose the very best plan of action for everyone. This may well speed up the process of decison making. In any event regardless of the speed of decision, implimentation will be rapid. There is no conflict. This is a major advantage over majority rule democracy."
I'm wondering how to demonstrate that, even on a small scale. More on that at another time.