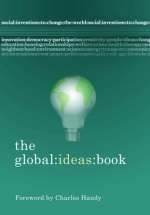 by Flemming Funch

The yearly awards winners were announced by the Institute for Social Inventions last week in London. You know, for years the institute has collected innovative ideas for many kinds of social change. The ideas appear on the Global Ideas Bank website, and the best ones are published in at least one book every year. And of those, a few are chosen every year to get awards. And there's 1000 pounds for one of them. I just received the book of this year's ideas in the mail. And, well, we go way back. Not just because I was one of those awards winners quite a few years ago. But also because I was very involved in getting the website up originally, and getting the yearly ideas imported into it for years. And because Nicholas Albery who was the driving force behind the institute and the ideas bank became a good friend. Alas, he departed a little too soon, but good people are carrying on the institute, and clever and entertaining ideas are still streaming in.

A couple of the awards from this year:
The £1,000 Overall Social Innovations Award for 2004 goes to Mahabir Pun, a teacher whose dedication and imagination has brought the internet and telecommunications to some of the remotest communities in the world in Nepal. Using an inspired mix of solar power, tree-based relay systems and wireless technology, the project is helping yak farmers stay in touch, families communicate and, with an expansion into distance learning, children to gain education. See NepalWireless.net for more information.

The Environmental Social Innovations Award for 2004 goes to Kerry Channing, an IT consultant from Brighton, who proposes a footprint or profile for products to allow people to make ethical choices between them. Products would be assessed on their fairness (to workers), their sustainability (can they be recycled, what impact they have) and their health (do they affect the health of humanity or the environment?). In this way, an 'IQ' would be created, allowing for greater transparency in the retail market, and greater choice for consumers. For further information, see the EIQ Profile
Those are good projects and ideas. But if you think them a little too serious, check out some of the other clever and funny ideas in the bank that are maybe less likely to happen, like the suggestion to Miniaturise Humans by genetic engineering, in order to save greatly on our resource use. You know, if we were only 50cm tall, we'd consume 1/8 as much food, and would need much less room and smaller cars, etc. Makes a lot of sense, actually, but who's gonna start?

There's a Global Ideas Blog too, passing on a lot of stimulating creativity.