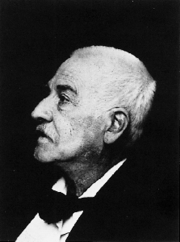 by Flemming Funch

"The essence of tyranny is the denial of complexity". -Jacob Burkhardt
What a great quote! Burkhardt was a Swiss social historian from the 19th century. He is credited with discovering (identifying) the age of the Renaissance. And for that matter also with the basic idea of being able to study and describe different periods as a whole, including culture, institutions, daily life, etc.

Life is complex, biologically, socially, culturally. The most awesome stuff that exists is complex. The universe, evolution, eco-systems, art, adventure, human culture in general, and the human mind.

That same human mind is at a crucial point in its evolution. We can consciously think abstractly. But not very well. The part of our mind we're conscious of, and that we usually identify with as "me", typically has an extremely inflated idea of its own worth and its own independent existence. That despite that it can only solve extremely simple problems, and it doesn't even know how. It over-simplifies everything, and it tends to think it is in charge.

That simple mind is also the wonderous faculty for paying attention and appreciating life, and for consciously discovering the mysteries of the universe and of human existence.

But when the simple mind gets stuck in the idea that it is in charge, and one of those simple minds end up commanding armies of millions of men, and huge economies, guiding the lives of billions, we're quite a bit in trouble. When the simple mind doesn't accept the complexity that brought it about, and it actually believes that its simple ideas are facts, and it tries to act accordingly, then we're in a lot of trouble. Yes, tyranny is when powerful rulers decide that the complexity simply is unacceptable, and it tries to control it, deny it, wipe it out. When a small group of people agree on a small list of small ideas as being the correct ones, validated by nothing much more than the voices in their heads, life is in danger. Doesn't matter much if their ideas are religious or moral or economical or political. It is the denial of the fundamental complexity of things that turns it into tyranny.

What saves us is often that those simple minds make many mistakes and miscalculations, so eventually their schemes fall apart. But it might take a while, and it is hard to predict what they take with them on the way down.

It hopefully sorts itself out in time, before it is too late. As the world becomes more complex, it gets harder to control big chunks of it without some understanding of complexity. One can still win in the short term by strategies of denying complexity, by forcing life into simple monocultural molds. But complexity has a life of its own, and there will inevitably be a certain evolutionary natural selection that takes place. The stuff that works will outcompete the stuff that doesn't work, given enough time.

And that in itself is reason for limitless optimism. Simple, rigid structures are subject to entropy. They fall apart over time, turn to dust. Wheras complexity, of the type that life is made of, regenerates, re-configures itself, it evolves, it transitions to higher orders of organization. I think I'm gonna place my bets on life.