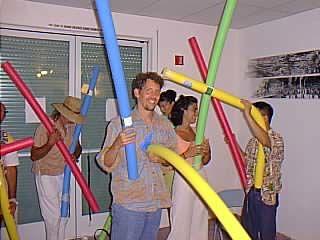 by Flemming Funch

I'm going to give outsourcing another shot. Which isn't easy, because I'm kind of bad at delegating, and I seem to be missing a bit of business sense.

It can all change, of course, but it is somewhat traumatic. There are a number of things I'm very good at. Possibly some things I'm absolutely brilliant at. But I spend a big portion of my time doing stuff I'm not very good at, working hard, long hours, and what I have to show for it is somewhat mediocre. There's some amount of emotion wrapped up in that too. It isn't fair. It's stressful. It pisses me off. I'm kind of apathetic about changing it. Despite my better judgement, I seem to believe that if I just work a little harder, then, maybe, it will all work out, and I can get around to the stuff I really want to do. But generally it doesn't seem to make a lot of difference how hard I work.

I've only fairly recently realized that I need to learn the basic principles of business and marketing. I've always had a certain amount of contempt for a society that's organized around buying low and selling high, around deceiving people into buying stuff they don't need, where most of the resources end up owned by people who do clever tricks with numbers, rather than by the people who work and produce stuff. But I can also change my mind, and notice that some of the principles of business apply to any activity, whether there's money involved or not. To create more value, it makes sense to look for opportunities to shift resources from areas of low productivity to areas of high productivity. Which happens to be one of the definitions of entrepreneurship. Why not get the most bang for the buck, whether money is involved or not? Work smarter, not harder. I'm trying to convince myself here.

One of the sensible and fashionable things to do, if one is independent and makes more than minimum wage, is to outsource as much of one's work as possible, particularly the stuff that isn't one's core competency and that could be done as well, or better, by somebody being paid a lot less. I first have to get over a bit of distaste for doing that, and convince myself that it can be a win-win for everybody. Really, there are other parts of the world where the cost of living is very different, and where there are loads of well educated people who'd love to work for me for a fraction of what a similar worker would cost where I live. I don't have to feel bad about that.

Part of what is hard for me when I employ somebody else to do something is that I have to be able to make decisions based on their performance, and fire them if it doesn't work.

It isn't like I'm without experience. I had my own company already when I was 20, a cleaning services company, with a dozen part-time employees. That worked well, and I hired and fired people without too much difficulty, did marketing and sales, and made a profit. And I've been a manager of IT departments and development teams. That's where part of my problem would start showing up. Even if I have a handful of other programmers to work with me, who're there to do whatever I ask them to do, I have had a tendency to end up doing 90% of the work myself. Which isn't good. I was always very popular with the people on my team, though.

I tried once before to outsource part of my work to a foreign worker over the net, more than 10 years ago, which is one reason I'm nervous about it. I had a guy in the Ukraine working full time for me for $1000 per month. I kind of felt it was so ridiculously little that I shouldn't really complain too much. He was a very nice guy, but so slow and unproductive that nothing he did ever really helped me with anything, and I had usually gotten impatient and solved the problem myself before he had finished his initial study of the problem, which usually took several weeks. Now, years later, he still writes and thanks me once in a while. Really, I had been paying him such a royal sum of money that he could move to a better neighborhood, buy a house, get married and have kids. Which is lovely, and I'm happy for him, but it never really created any value for me.

But I'm going to give it another shot, and test performance before going to the next step.

What it really is about is a transition for me. The puzzle is not primarily about money and work hours and projects for customers, but more about how to move to the next level. How can I be more effective? How can I do what I'm here to do, without getting stuck in the details? How does one start sustainable activities? Even if we're talking about an idealistic non-profit activity, it somehow needs to be financed, by money or time or work or other resources. And it needs to be done in an effective way that actually works, and keeps working.

See, I have a similar problem in non-profit activities. I haven't had trouble drumming up some interest in some things I was working on from time to time, or inspiring people to join up with them in some fashion. But I have a fairly lousy track record in getting people to actually participate in developing and evolving them. Which is not their fault, but mine. To collaborate, it usually needs to be very clear what we're collaborating on. If you want others to do something, it better be very clear what it is. Somehow I've often been very vague about what there is to do, or what I need. Just like I usually have been very vague about what exactly I'm doing. You just can't easily build something precise based on vagueness.

So, I'm working on being more clear, primarily on what I want, and to create more clear interfaces for how one can work with me, and what I'm available for.