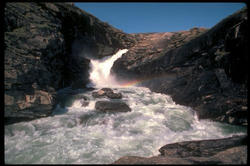 by Flemming Funch

Simon Buckingham talks about "What is Unorganization". The good kind of unorganization, that is.
The world we all live in has fundamentally changed for the better from the old organized model to today's unorganized one. In the orderly organized world, there was certainty and convention. In the global unorganized world there is freedom, diversity and instability.
I like it already. He has some nice charts. He presents a scale going from the most organized types of societies - communism - through socialism, capitalism, finally towards what he calls 'technological capitalism', which he sort of positions as the best of all worlds.
Socialism was a response to inequality, whereas capitalism can cause it. Under capitalism, new economic opportunities tend to present themselves to members of institutions such as companies or to people who have already benefited from other opportunities. Individuals acting alone face either high entry barriers or are excluded altogether from taking advantage of those market opportunities. The rich get richer and poor people stay poor. Under technological capitalism, there are both the free market opportunities AND the opportunity for all individuals to benefit from those opportunities. Individuals can participate more easily in, and benefit more fully from free market economies. Talent determines future wealth, not current wealth: poor people can become rich.