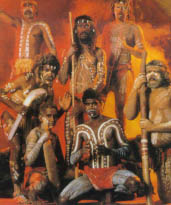 by Flemming Funch

Mikela Tarlow talks in "Digital Aboriginal" about a traveler who had spent many years in the Australian outback with an aboriginal tribe. He explained that the aboriginal elders counseled their people to avoid the seduction of agriculture.
"Suddenly, instead of following the weather, you want the weather to be different. And it is now easier to put things in straight lines. And because you have planted, you need fences. And since you have planted, you can accumulate possessions. And once your tribe is bound to a fixed address, forms of hierarchy emerge that were not possible when it had to stay on the move. Because you have put down roots, for the first time you must consider defending your territory. Thus, convenient as it is, planting is the beginning of control. Merely because you put a small seed in the ground, you are now invested in a whole system of maintenance that requires you to stay put. You are no longer free to follow what calls. So, the aboriginal elders wisely teach their people to avoid agriculture. The aboriginal spirit requires the freedom to follow the wind."
Hm, that is certainly different from the way westeners normally think. For us it is often a powerful metaphor that we're putting seeds in the ground and staying around to nuture and defend them. But this makes sense on several levels. Maybe a hint of another way of being, where we don't trap ourselves in our own net of obligations and expectations.
"His profound sensitivity is possible only because he does not have to wait for seeds he has planted. His perceptions can be long and deep, since he has no territory that he must defend. His mind is quiet, since he is not attached to outcomes. Because he does not have to plan, his spirit is free."