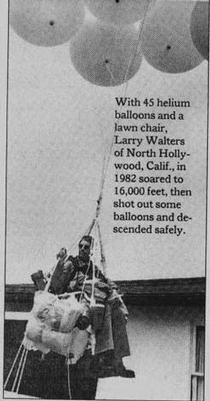 by Flemming Funch

The guy was obviously crazy, but he had vision and he had guts, and he followed his dream and did something nobody else had done. That makes him a hero in my book.
When Larry Walters was 13 years old, he went to a local Army-Navy surplus store and saw the weather balloons hanging from the ceiling. It was then he knew that some day he would be carried aloft by such balloons. This obsession would be with him for the next 20 years. On July 2nd, 1982, Larry tied 42 helium-filled balloons to a Sears lawn chair in the backyard of his girlfriend's house in San Pedro, California. With the help of his ground crew, Larry then secured himself into the lawn chair which was anchored to the bumper of a friend's car by two nylon tethers. He took with him many supplies, including a BB gun to shoot out the balloons when he was ready to descend. His goal was to sail across the desert and hopefully make it to the Rocky Mountains in a few days. But things didn't quite work out for Larry. After his crew purposely cut the first tether, the second one also snapped which shot Larry into the LA sky at over 1,000 feet per minute. So fast was his ascent that he lost his glasses. He then climbed to over 16,000 feet. For several hours he drifted in the cold air near the LA and Long Beach airports. A TWA pilot first spotted Larry and radioed the tower that he was passing a guy in a lawn chair at 16,000! Larry started shooting out a few balloons to start his descent but had accidentally dropped it. He eventually landed in a Long Beach neighborhood. Although he was entangled in some power lines, he was uninjured.
From Mark Berry who has made it his hobby to be obsessed with the story.