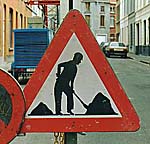 by Flemming Funch

While discussing xpertweb, an interesting system for connecting people with experts through a peer economy, Britt Blaser mentions, amongst several problems with real-world reputation systems:
"People no longer work for a living. They hold jobs for a living, which pays better.
..which sort of got me thinking. That isn't just a flippant thing to say. I have a hard time thinking of anybody who really works for a living. When I have work that needs doing, I have a hard time finding anybody who would like to do it, even for money. And, I must admit, I don't really have time to work either. There's nothing I'm available for that you can just come and pay me for and I'll do it. And, looking around me, a lot of people seem to work that way. OK, I can still go and get a haircut and pay for it, and I pretty much know what I'll get. But that kind of thing is becoming more rare.

The times I have been employed by corporations I was always puzzled by the fact that most people weren't really doing anything terribly productive, and it made relatively little difference what amount of work people actually were putting out. I several times had the task of making a computer system that would automate what a certain company was doing, so I specifically had to study what it was that actually took place. And along the way I noticed how rather little it had to do with doing work and accomplishing finished work. For example, it is with some embarrassment I note that I once hired a guy to document a program I had written. He had an impressive resume, and the company had to pay above the norm to acquire him. After a year he left to join a big consulting company, and everybody shook his hand and congratulated him on his great career move and his excellent service to the company. I and everybody else knew, at least via our peripheral vision, that the tangible product of his 1 year of work was 1/2 written page of a suggested outline for the manual. We're talking about an expense of maybe $70K for 1/2 page of writing, which I could just as well have jotted down in five minutes instead of hiring him. But nobody cared, because none of it really matters that much. The company was busy and the organizational chart looked good and the money flowed somehow. And this guy had great relationships with everybody. He was very supportive. I enjoyed working with him.

It is not all crazy. The point is that it is relationships people want, rather than giving or receiving quantities of work. And in some mysterious way, that's actually working. With the people I work for today, I'm an independent contractor, but I've insisted on arrangements where I get paid fixed amounts of dollars per month, but I don't promise any hours of work, and there are no deadlines or anything like it. If they or I are unhappy, we'll change the amount or stop the agreement. But it is not about work. It is about paying attention. It is about being present for whatever comes along in a certain area.

I have not yet myself learned to be comfortable with that in situations where I'm the person who's needs some work done. I can see how it ought to work, but it just hasn't become intuitive yet for me. The point is of course that it needs to be a mutually beneficial relationship. I pay attention to these things, and you pay attention to those things, and together we're better off somehow. It is not about me forcing you to deliver certain goods at a certain price. The world is changing rapidly and the future is uncertain, so maybe the relationship model is more viable than a transaction model. But, of course, it needs to be a good relationship, not a bad one.