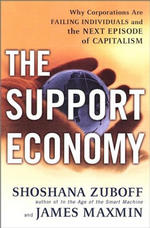 by Flemming Funch

The Publishers Weekly review of the book "The Support Economy: Why Corporations Are Failing Individuals and The Next Episode of Capitalism" says:
"Over the last two centuries, they argue, an increasingly efficient economy, coupled with a rise in democratic thinking and growing access to information, has opened up life's possibilities to increasing numbers of people. Because participation in the consumption-based economy is unavoidable, the general public looks to markets to provide 'deep support' in their quest for individualization, but 'are routinely punished for being complex psychological individuals in a world still fitted out for the old mass order.' This macroeconomic structure treats people as either employees or consumers and inevitably hurts their feelings. Zuboff and Maxmin would eliminate the 'little murders' of customer service interaction by replacing the current transaction-based model with a form of 'distributed capitalism' based on a customer-supplier relationship, so semi-anonymous customer service reps will be replaced by 'advocates' fully emotionally involved in their clients' needs."
I like that. Its gotta happen. The economic value of actually caring about giving people what they want - it must somehow turn out to be higher than the value of tricking or mistreating people into paying too much for things they don't really want. Sooner or later.