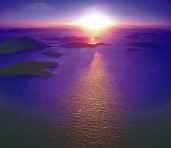 by Flemming Funch

Davide in Italy has been so gracious to translate the "We are the New Civilization" poetic manifesto into Italian. Thanks Davide!! That brings us up to 14 languages: Italian, Spanish, French, Portuguese, Hebrew, Danish, Finnish, German, Russian, Croatian, Slovenian, Esperanto, Interlingua and English. Anybody else? Somebody speak Japanese or Chinese or Korean? Swahili? Sanskrit?
Noi siamo qui.
Noi stiamo camminando ora, fuori dal passato, per sognare un grande sogno.
Noi siamo amici e uguali, noi siamo diversi e unici, e noi siamo uniti per qualcosa di più grande delle nostre differenze.
Noi crediamo nella libertà e nella cooperazione, l'abbondanza e l'armonia.
Noi siamo una cultura emergente, un rinascimento dell'essenza dell'umanità.
Noi cerchiamo la nostra guida personale, e noi distinguiamo la nostra propria verità.
Noi andiamo in molte direzioni, e ancora rifiutiamo di perderci.
Noi abbiamo molti nomi, noi parliamo molte lingue.
Noi siamo locali, noi siamo globali.
Noi siamo in tutte le regioni del mondo, noi siamo da ogni parte nell'aria.
Noi siamo l'universo che si conosce, noi siamo l'onda dell'evoluzione.
Noi siamo in ogni occhio del bambino, noi affrontiamo il non conosciuto con ammirazione e eccitamento.
Noi siamo messaggeri dal futuro, vivendo nel presente.
Noi veniamo dal silenzio, e noi parliamo la nostra verità.
Noi non possiamo essere taciuti, perchè le nostre voci sono con tutti.
Noi non abbiamo nemici, nessuna frontiera può ostacolarci.
Noi rispettiamo i cicli e le espressioni della natura, perchè noi siamo la natura.
Noi non giochiamo per vincere, noi giochiamo per vivere e imparare.
Noi agiamo dall'ispirazione, amore e integrità.
Noi esploriamo, noi scopriamo, noi sentiamo, e noi ridiamo.
Noi stiamo costruendo un mondo che lavora per tutti.
Noi intendiamo vivere le nostre vite per tutto il loro più pieno potenziale.
Noi siamo indipendenti, autosufficienti e responsabili.
Noi reaggiamo reciprocamente nella pace, con compassione e rispetto, noi uniti nella comunità.
Noi celebriamo la salute con e attraverso noi tutti.
Noi danziamo al ritmo di creazione.
Noi parliamo le verità dei nuovi tempi.
Noi siamo la nuova civilizzazione.