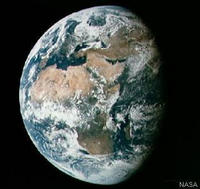 by Flemming Funch

The first Israeli astronaut, Ilan Ramon, is having a good time in space. He said Wednesday from shuttle Columbia that he wishes his homeland — in fact, all of the Middle East — were as quiet and peaceful as it looks from space.
"The world looks marvelous from up here, so peaceful, so wonderful and so fragile."
Great. Maybe they should send up Ariel Sharon next time.