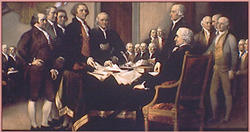 by Flemming Funch

Joi Ito has an emergent democracy brainstorm with John Vasconcellos and friends.
"The discussion was quite fascinating. We started talking about the republic and representative democracy. It was pointed out (sorry, I took notes, but not always about who said what....) that the republic was not formed for the sake of efficiency but out of a more elitist attitude that certain people were more fit to govern and that it would be impossible for an uneducated mob to rule. In that sense, it really wasn't just a more efficient democracy. I asked John what he thought about the current representative democracy and he said, 'not functioning well, but functioning barely'. He said the people are 'so busy, distracted and spoiled'. I agreed with them that a direct democracy in our current environment was not feasible, but that maybe our thoughts on emergent democracy might, in the short term, be a great tool for supporting a the 'not functioning well, but functioning barely' representative democracy that we have today."
Very interesting point there about representative democracy in the form of a republic, like in the U.S. It isn't to allow the people to decide. It is to remove the mob from deciding. However brilliant and freedom minded the fathers of the U.S. Constitution were, it wasn't direct democracy they had in mind. So, it is time for something altogether new.