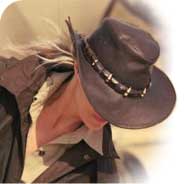 by Flemming Funch

From HeadMap more freedom ants:
With the geo enabled foaf adhoc mesh internet in your pocket you should be able to turn a big piece of cheese into a hat no problem

broadcast your cheese, your location, and your need for a hat

..maybe money will come into the equation maybe not
..maybe you'll get a free hat and give away your cheese
..maybe you'll meet some friends of friends

the internet is a collaboration, exchange and transformation mechanism soon to have more cool features than money
If our information network gets to be pervasive enough, the need for oldfashioned money will decrease. Money was a solution to the problem of not being able to find somebody who wants what you have at the same time as finding something you want to have. It was also a solution to the problem that we didn't trust that we could always find available that which we want. What we need is better information. Because most of what we want is quite readily available, if we just know where and how.