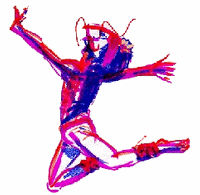 by Flemming Funch

L.A.Times article (registration required) talks about multi-tasking and whether it is bad for you. Specifically it includes comments from a researcher who seems to think so.
"Chronic multi-tasking over many years poses a strong risk for ultimate brain damage," says David E. Meyer, a cognitive neuroscientist at the University of Michigan. He is drawing on 30 years of laboratory research and published studies in the field.

Tension and confusion, those consequences wouldn't have surprised me. But brain damage?

Meyer explained: As we force ourselves to bounce from task to task and back again, we generate stress. Body and mind gear up to cope by releasing adrenaline and other hormones. This powerful medicine is good for a crisis, but hard on the machinery.[..]

Apart from brain damage and consequent depression, Meyer also noted the alarming likelihood that multi-taskers are losing the ability to concentrate.
Hm, I don't know. There's something to that. As a wired-up human who's likely to always be doing a number of things at the same time, I do notice that I have a harder time concentrating when I actually need to. I have 4 instant messenger programs open. I get e-mail every 10 minutes. I have about 30 windows open on my computer. One of them is cable TV with 400 channels. I'm surfing the web. I have actual work to do. I have a lot of notes on my desk about things I need to remember. I have 3 phone lines. My family comes in and asks me things all the time. There's a stack of books I'm all reading at the same time. I feel stressed and scattered a lot of the time.

But I haven't quite decided whether multi-tasking in itself is good or bad. Whether we're evolving and learning to be continuously connected while in motion, or whether we should become more vigorous about carving out quiet concentrated space for ourselves.

My kids appear to have evolved compared to me. My 19 year old daughter seems to be perfectly comfortable chatting online with a dozen people simultaneously, while she's on the phone with somebody else, and she's listening to music and watching TV, and somebody's visiting. Doesn't look like stress at all.

I suspect there is a state of engaged synergy that is available, a being-in-the-flow, where you're doing many things at once, but they somehow work together and support each other. As a dance. As opposed to the frantic scramble of trying to do many things at once that really don't belong in the same space.