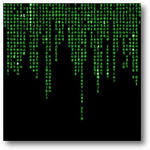 by Flemming Funch

The new matrix movie has premiere here soon. I'm definitely not alone in being excited about that. Paul Hughes on Planet P:
This article in Slate came out a few days ago and it sums up nicely what I always felt about the matrix after seeing the first film - in the matrix we can do anything. Since the late 1980's after probing in depth the potential of consciousness becoming software via nanotechnology and perhaps quantum computers, I have endeavored to visualize the future of reality enhanced by fully customized hyper-intelligent neurological circuits and synthaesthic hyper-sensory pathways. This potential is the primary theme of my book-in-progress. As this article points out Neo shows us the way:

"The real source of the fascination with The Matrix is that, despite all appearances, the movie is not a dystopia. Rather, it's a utopia, a geek paradise. The Matrix is a sci-fi John Hughes movie, in which a misfit learns that he's actually cool. (Think Harry Potter with guns.) At the software company where Keanu Reeves works, his boss might as well be the principal castigating Judd Nelson in The Breakfast Club when he says: "You have a problem with authority, Mr. Anderson. You believe that you are special. That somehow the rules do not apply to you. Obviously, you are mistaken." Of course, we learn that the oppressive Figure of Authority is the one who is mistaken. But instead of going to the prom, Keanu gets to pack heat, learn kung fu, wear a black trench coat and sunglasses, and, to top it off, he gets a hot, ass-kicking girlfriend who sports fetish wear. What kind of dystopia is this?"
Read on, more good stuff. Also, if you have broadband, go and see the animated short movie series Animatrix, outlining the history of the matrix.