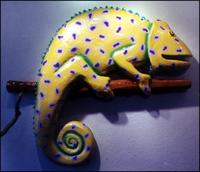 by Flemming Funch

Andy Borrows quotes Milton Erickson, the famous therapist and inventor of clever hypnotic patterns that often helped people change in rather miraculous ways:
"Well, let's pretend... that you're a therapist who works with people. The most important thing... when you're pretending this... is to understand... that you are really not... You are just pretending... And if you pretend really well, the people that you work with will pretend to make changes. And they will forget that they are pretending... for the rest of their lives. But don't you be fooled by it."
Indeed. Any therapist should be very clear on that. But it is a secret. Most people are not so good at pretending if they know they're pretending. We usually need to fool ourselves in thinking we're doing something more. That there are really good reasons for being the way we are. So, if we need to change, we'll often need a whole support scaffolding around our new way of being, which makes it look perfectly reasonable and unavoidable that this is now the way it is. A good therapist will help people feel that it is perfectly reasonable and normal to be a different person from now on. It is all just pretend. But so is everything else.