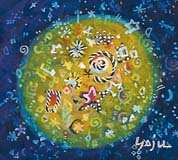 by Flemming Funch

Excellent op-ed piece "Tech Bloom in full flower" by Alex Steffen.
"The conventional wisdom, during the Tech Boom, was that what drove innovation was the lure of giant piles of cash. That idea now rubs shoulders with the Berlin Wall. What makes creative people tingle are interesting problems, the chance to impress their friends and caffeine. Freed from the pursuit of paper millions, geeks are doing what geeks, by nature, really want to be doing: making cool stuff.

Not just making it, but giving it away. Saying the Tech Bloom is not commercially driven is like saying Mother Teresa had an interest in the poor.

Which may be why the media haven't quite gotten the magnitude of what's happening here: It's not about investments. If the Tech Boom had a graven image, it was the bull on Wall Street. The Tech Bloom is more likely to be found dancing around the desert at Burning Man, the annual festival where money is taboo, everything's a gift and creative participation is synonymous with cool."
Indeed, it is great news. Very cool things are being developed by people who do it because it needs to be done, because it is fun, because other people like it. Money has very little to do with it. It is unstoppable. Imagine when the whole world works like that.