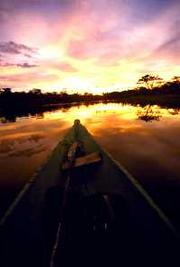 by Flemming Funch

Hazel Henderson writes good news about Brazil taking a lead in a group of 22 developing nations that no longer are quite as willing to put up with a World Trade Organization or an International Monetary Fund or a World Bank that are in the pockets of the richest countries and corporations. Rather they're looking for alternative paths toward sustainable economies. Recently a group of Brazilian leaders in business and civil society worked on developing long-term visions and shared goals for sustainable development. They came up with this vision, looking back from the year 2020:
We are a nation of 210 million people reigned by peace and wide access to work. In the last 16 years we have presented significant improvements in income distribution, the rich and poor gap, in balanced geographical occupation and access to education, culture and health.

We are a nation without misery in which education is a priority. A country in which there is a high life expectancy, oriented by sustainable development. We are a country which is able to develop widely accessible technologies. We are a nation with more safety, more justice and with an increasing feeling of social responsibility.

Today, our human relations are based on respect of the elderly and children; we have more time with our families, we are guided by confidence and ethics in our commitments. Equal opportunities are provided and we are recognized in the world by our culture of peace, as a country that has taken a leadership role in the Latin American continent, due to solidarity, full and sovereign international integration.

We are the biggest world production of food, based on a sustainable agriculture that conciliates different forms of production organization. There are no land conflicts. 20 to 30 million people live in "rural towns" producing with more added value.

We utilize our environment assets with preserving actions. Alternative energies are applied. Our cities are clean, non polliuted, with more green spaces accessble to the whole population. Science & Technology research efforts interrelate the private and the public sectors. Small businesses have assured access to the most advanced technologies.

Our participatory and collaborative culture has favored innovation and competitiviness of our products, as well as a Brasilian management style. Every Brasilian is a citizen. The public interest prevails over private interests. The State is controlled by society. Political representation is legitimate and the public administration is guided by morality and effectiveness.