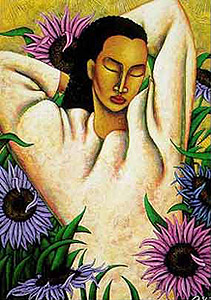 by Flemming Funch

Mentioned on Empowerment Illustrated, I'm looking at the EQnomy Manifesto. It is based on the idea that all human action is rooted in emotion, and the aim is that we can live consciously, in tune with others, and aiming at happiness for everyone. Here are its 12 Theses:

1. People want to experience that they live. Now.
2. The truly important things are: being-human, development, challenge and fun!
3. People define their own passion, energy, success and needs.
4. Our EQnomy is a sizzling party of real, authentic human beings.
5. We seek no 'balance between work and personal life'; we are our authentic selves in work and in private.
6. Our talents, time, attention, ideas, knowledge and networks are ours and our responsibility.
7. An organization is not a Counsel, Company, Care- or Educational Institution. An organization always consists of PEOPLE who are committed to each other and to other people.
8. "What does your care, involvement, service or product add to me, my development, challenge and fun!?"
9. We do not want to be 'robbed'; we want to be 'touched'.
10. Before we go along with an organization, we first want to understand it and feel it; the mission, the culture; the people.
11. We are loyal to the passion and inspiration with which all once began. Not to the rules that 'crept in' along the way.
12. To us it is not about WHAT we do. To us it is about WHY we do what we do.
That is an intriguing angle to take on everything. Life is about being alive, about being true to who we are. Any kind of organization and set of rules are of course secondary to the authenticity of what we're about, what life is about. If you're a different person at work than when you're "off", you're not being real.

Yes, imagine how life would be if we could live it authentically all the time, and we could allow others the same freedom, and we didn't feel compelled to force ourselves and others into some fake roles, pursuing aims than none of us really care about.