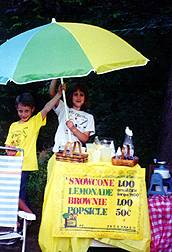 by Flemming Funch

I still haven't figured out how to be an entrepreneur. It is really what I ought to be. I don't really want to be anybody's employee, at least not unless they pay me a lot of money and let me do what I feel like doing. As it is now, I'm indeed independent, but I tend to be extremely passive about it. I.e. I wait around for people who show up to insist on paying me money for doing something for them. Which sometimes works well, but when it doesn't, I don't have anything very organized to do about it. I'd really like to change that, and be a lot more proactive about it.

Yesterday, at an event for entrepeneurship and franchising, I met a guy who had paid 50,000 euros for a web consultant franchise. It essentially set him up to market himself as somebody who could sell people websites, and then either find people to pay for doing the work, or existing packages he could use for standard functions like e-commerce or help centers, or whatever. And the company provides some infra-structure for that, and provides an image one can borrow, with logos, etc. Duh, he could do the same thing without being anybody's franchise of course. As could I. You create an image for your company, and promote and network, and give people quotes, and then you either do the work yourself, find some software that will do it, or you pay somebody for creating it. Anyway, he was quite happy with his arrangement, and, apparently, having a company behind him made him feel much more confident in doing it, even if it in principle was an unnecessary waste of money. A great business for the franchise company, obviously.

At the same event I spent some time sampling educational CDs and videos about how to form a new small company. Establishing a focus, making business plans, getting financing, choosing a company form, incorporated or not, getting good advice and help, finding offices, marketing, keeping track of the numbers, etc. Nothing big I didn't know. But some of these things are pretty complex here in France, such as the zillion different social taxes one needs to pay in different directions, so it is not very straightforward to choose the proper format. For me it pretty much comes down to that I have to make at least twice as much money as I need to pay myself in order to be able to afford any of the formats, to be able to afford all the social security charges and taxes. Before even getting around to personal taxes. And I don't. It is a bit of a puzzle.

Anyway, on the subject of the proper MBA recommended way of starting and running a business, it is refreshing to then read Dave Pollard's "A Heretical Approach to Entrepreneurship". He's talking about what Charles Handy calls Existential Enterprise and what he himself calls New Collaborative Enterprise. It is a more sensible and centered, but, yes, maybe heretical approach, if we compare it to the MBA way. Do stuff that really is needed, rather than trying to market stuff that nobody really wants. Don't borrow money to do it. Do it with people you really trust and care about. Don't bother incorporating. Make a flat organizational structure without titles, and let things get done organically and collaboratively. Work out between you what each person really needs and wants to get from the business. Create the goals for the enterprise together, and choose the roles that come most natural. Spend quality time time with people. Network effectively with customers and potential customers, and with allies and potential allies, and with coaches and experts that can help you. Keep your own needs and happiness as a priority. Then try to keep the customers happy. Then pay attention to the community around you. You are the guys that make it happen, and it is important that it works for you. There are no absentee owners or share holders or creditors.

I like it a lot. For that matter, I can hardly imagine another way of doing it. But I have to take a hard look at what I'm missing, of course. A clear focus on what I'd want to do, for one thing. And what problems it actually will solve for somebody. And who exactly I'm doing it with. And I'm not really proactively networking and having quality conversations with potential customers, partners and allies. Not that I'm hiding. But I'm not building business. I work on what happens to come my way. Which usually means too much scattered work for too little result, and not much control over making it any different. I know most of the answers, of course, but it is not easy to change one's own patterns.