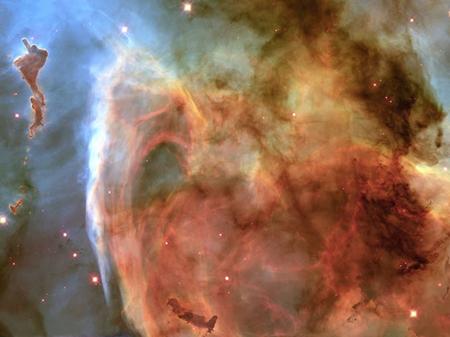 by Flemming Funch

Article in NY Times: Unintelligent Design, trying to debunk the idea of intelligent design.

Now, I've seen a lot of people complain about "Intelligent Design" being a term invented by Creationists, to covertly push the idea of Creationism, but I hadn't seen any of the materials. OK, I just searched around and found a few sites: Intelligent Design Network, Intelligent Design and Evolution Awareness Center, Origins.

Hm, seems to be about right. Those are sites that seem to try to shoot down evolution, by positioning themselves as being very objective, and pointing out the lack of evidence for evolution.

That's a shame. Oh, there isn't really much evidence for evolution. Plenty of evidence that life is evolving, and for natural selection. But very little evidence for evolution being caused by the random bumbling about that is the core of Darwinism. Nobody has found any lifeform that drew any advantage from being a half-flying bird or having half an eye or anything like that. For that matter, last I looked nobody had really found any missing links between much of anything. Oh, there are many easy ones. If it is gradually getting colder, each generation would give an advantage to the more hairy members of the species and that kind of thing, so they would be more likely to carry on the race, to become more hairy. A whole lot harder to make the case for why a wolf would jump into the ocean and develop a blow hole on its head, you know sort of randomly, a little at a time. Or how lizards who jumped out of trees got an advantage, while randomly developing flappy arms, until a few hundred thousand years later they can fly. And then there's the eye, of course.

Creationists would like to have us believe that a guy named God created it all out of thin air, fully formed, ready to go, in an enjoyable variety. And somehow they hate the idea that all of this life evolves on its own. Not for any terribly good reason other than that the Bible says God did it in seven days, and it somehow fits their belief best if it is all utterly incomprehensible and beyond humans to understand, other than in the form of knowing who to credit.

Intelligent Design is such a good term, so, yeah, it is a bit of a waste if it is just highjacked to mean anti-evolutionary creationism.

I think it is a pretty damn intelligent design. A universe with billions of galaxies with billions of stars, lasting for billions of years, with planets circling nicely around stars that provide light and heat, with elements and conditions that combine gradually into life forms. Life forms that do the most amazing things in an amazing variety. And that evolve, over millions of years, to more and more intelligent creatures, more and more adapted to their environments. In an unbroken chain over several billions of years. Until it somewhere along the line leads to US. We're pretty intelligent, although we're also pretty dumb, and is not clear yet which aspect will win. But you can't say we don't have intelligence. And we're hard at work at evolving into something better, and we probably will. Because you and I each have that several billion year unbroken success record behind us.

If all of that isn't the most intelligent design you've ever heard of, I don't know what is.

Are you going to tell me that all that could happen without it being inherent in the design of the universe that it could happen? Where on earth does intelligence suddenly come from if it isn't what naturally emerges from the layout of the universe. Just like gravity doesn't suddenly appear out of the blue for no good reason, neither does intelligence. Unless you claim to come from somewhere else, which is perfectly alright with me, your intelligence is simply a property of the universe, or the omniverse, or however big you want to look. The design is intelligent, obviously, because YOU are.

And hopefully it is a lot more intelligent than you or me individually, because humans at this point have a bit of an overblown idea of how special they are, and how much smarter they are than the universe.

That article there is a good example of that. Its argument against creationism is how badly designed everything is. You know, species die out left right and center. Life forms have loads of useless features, like the peacock's feathers, or the nipples of male humans. And that the laryngeal nerve in mammals is just too damn long. So if there were a designer, he must have been some kind of idiot. Oh, and the "moral" failures. Humans and animals are continually tortured by disease and pain and mutual cruelty. How can the designer be so mean?

See, it is all really religious arguments, for or against. It is the same kind of stuff that doubting believers in dogmatic religions go through. If God is all powerful and just, why do people starve, and why did my Uncle Harry die in a car accident, way before his time, even though he was such a good man?

Because most of the materialist evolutionist anti-creationist guys agree perfectly well with the religious creationists that the only possible God and Designer of the Universe is this archetypical greybearded fellow who just made everything up out of his little toe. And both agree that it is either that or chaos. The Creationists decide that it is most comforting if that guy did it, and that's the end of the discussion. The Evolutionists decide that no way are they going to be subjugated to that, so they choose what they think is the only alternative - the opposite. That it all happened, completely randomly, as a series of lucky accidents, out of chaos, without any kind of purpose or meaning or system. Well, actually they do a little sleight of hand trick at the same time, and imply that there's a marvelously consistent set of laws and mechanisms at work, which have worked unfailingly since the beginning of the universe. Except for that it is all just supposed to be meaningless chaos, so we go quickly past the self-contradiction in that.

Now, I'm not religious, so I don't believe in either set of dogma. They're a bit cartoonish, and neither of them is consistent with itself.

That the Design is Intelligent - that I believe in. Or, rather, there's no need to believe in it, because it is readily observable. It is the stuff you don't see that requires convoluted explanations. Just like like the fundamentalist religious person tends to get lost in circular explanations when asked to explain why an all powerful god allows pain and suffering, the fundamentalist materialist gets lost in circular complexity when asked to explain where the natural laws came from, or how human eyes assembled by accident. And mostly it adds up to: just because! You just have to believe it.

It is a shame, because it could really be so simple. If the universe itself is intelligent and alive, you don't really need to invent wild stories about how things come about. You only need those when you think you somehow are separate from the rest of the universe. What arrogance. You aren't. You're a part of a bigger system. If you're intelligent and alive, and you're a product of a bigger system, as well as an integral part of it, then of course that system is intelligent and alive. That's simple math, unless you come up with the X factor that was added to the soup to create you. And if you rather lean towards having been created by God, then how can you think you're somehow suddenly something separate from it? That's a bit of an insult to what created you. The only separation that is there is what you might create in your mind.

As to the cartoonish God-in-the-picture-of-Man who created everything, yeah, that's not a very good foundation for reality. It is an easy target. Quite easy to answer any mention of Universal Intelligence by pretending that that's what people of course are talking about. Easy to avoid the real issues, because that one discussion quickly becomes heated. And both sides are wrong.

I'm an evolving intelligent universe. I'm a design in motion, designing itself, discovering the ramifications of the design as I go along. I don't know who you are. Well, I do, actually.