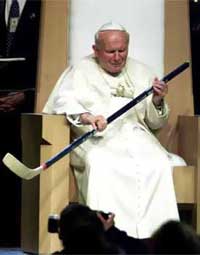 by Flemming Funch

The inside scoop, in case you didn't know. From a... poem, I guess, by James Tate.
After a poodle dies
all the cardinals flock to the nearest 7-Eleven.
They drink Slurpies until one of them throws up
and then he's the new Pope.
He is then fully armed and rides through the wilderness alone,
day and night in all kinds of weather.
The new Pope chooses the name he will use as Pope,
like "Wild Bill" or "Buffalo Bill."
He wears red shoes with a cross embroidered on the front.