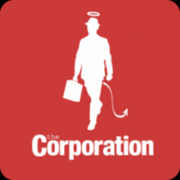 by Flemming Funch

I finally saw the movie The Corporation. I mentioned it previously here. It is a documentary about, well, corporations. Very well researched, about the history of the concept of the corporation, and about how (badly) corporations often end up behaving, following quite naturally from their foundation, from what they're defined as. In brief, a corporation is a legal person, but a person with often huge amounts of resources, and no need to answer to the same standards as regular humans. The obligation of the people who run a corporation is to make large and increasing amounts of money for the people who own it. They might be nice enough people on their own, but their job is simply to acquire as large profits as possible. It is quite harmonious with that aim to use child slave labor in foreign countries, or to let foreign armies eliminate protesters who object to the environmental record of their factories. Maybe not right, maybe not moral, but a corporation has no conscience. It luckily has some people running it, who sometimes have a conscience. But in itself it doesn't. So, if we evaluate a typical multi-national corporation as if it were a person, it would fit every criterion for being a psychopath. It can continously get away with all sorts of irresponsible and destructive behavior. Yes, it might get fined, somebody might get fired, somebody might even go to jail, but those are just expenses and minor inconveniences. The corporation itself typically goes on. Unless it somehow fails to make profits.

Another enlightening aspect is the economic concept of externality. It is basically when a business makes a decision that causes costs (or possibly benefits) to be incurred outside that particular organization. You make it somebody else's problem, essentially. For example, a corporation might cause heavy wear and tear on certain public roads, but might let the local city government bear the costs of that. Or it might pollute, and let somebody else worry about that. Or it might let some army clear the way for its oil business, or remove people who were standing in the way of their business. Externalities can be great for a company's bottom line, making great profits, but at high costs elsewhere. So that when we add up the total accounting, it is anything but a beneficial and profitable activity. I.e. it causes much more damange or uses many more resources than what good comes out of it.

It doesn't have to be that way. The movie provided some bright spots, although not all that many. Business leaders might start thinking differently, and some do. Thinking about how to run a sustainable business, where what they do actually is beneficial, also when we count the external influences.

Interestingly I saw the movie in a local business college. One of the professors had persuaded the school to purchase the movie, so she could show it to students. Which obviously would be rather controversial, as that's a place where students are taught to do exactly the kinds of things the movie warns against. But change starts by being conscious of what is going on, of course. And, most likely, corporations will change to the degree that somebody figures out a way for it to be profitable to be sustainable and ethical.