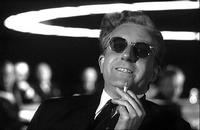 U.S. foreign policy is becoming more and more like a Monty Python show. UPI reports that Richard Perle, the chairman of the Pentagon's Policy Advisory Board is condemning French and German policy on Iraq in the strongest terms. He thinks that France's attititude is particularly dangerous and serious.
"France is no longer the ally it once was... " and he says the U.S. "must develop a strategy to contain our erstwhile ally or we will not be talking about a NATO alliance." and how about this one "I have long thought that there were forces in France intent on reducing the American role in the world."
No kidding!?! It is time to send in the bombers. Those Frenchies are too damned independent. Wanting their own language and foreign policy, sheesh, they're just a bunch of revolutionaries. Let's just freeze them out.

And those Germans:
"But in the German case, the behavior of the Chancellor is idiosyncratic. He tried again to incite pacifism, and this time failed in Sunday's elections in Hesse and Lower Saxony. His capacity to do damage is now constrained. Chancellor Schroeder is now in a box, and the Germans will recover their equilibrium."
INCITING PACIFISM!?! Yeah, I can see - that's very serious. Maybe it is time to bomb Dresden again, so they can forget about silly notions like that.

Sarcasm aside, it is looking pretty grim if that is official policy. ... Maybe what is going on is that this is now the Internet world, so we actually hear what people like that are talking about, instead of it just being something they would talk quietly about behind closed doors, and then the CIA would sneak out and assasinate somebody and fund some new dictators that were easier to control.
[ Politics | 2003-02-05 22:44 | | PermaLink ] More >