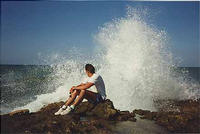 I was reading this quote from an article called Leaderless Resistance Today:
"The new communications technologies make it possible for a movement to exist solely as an ideology, with no membership lists, no financial records, no direct communication between the operatives — and no "off" switch. There is no way to negotiate with such an ideology, no way to compromise.

...Because there is no formal "group" with assets, interpersonal relationships, or other stabilizing factors, individuals who moderate simply leave the milieu; their writings and actions remain behind, recruiting new members."
..and I was thinking "Yeah, that's fabulous, that's the kind of stuff we need!!", when I actually looked at the article and realized it was about terrorist groups and dangerous elements in society, and how movements might continue, simply based on an ideology, a book, a website, an event, even without any organizing network, without an organization, without any leaders. And the article talks about how that is a very bad thing, and how we might stop that. But I'm looking for how we might start that. Oh, not focused on hate and violence as the article is talking about. Focused on truth, freedom, beauty, love, the common good. Imagine that there were nothing any frantic monopoly could do to stop people from spontaneously making things work better and being more fun, and from exposing the truth at every turn. No organizational leadership to buy off, no accounts to bankrupt, nobody to put in jail, no communication channels to cut. Just millions of people who freely and voluntarily operated as cells of a bigger body, without even having to talk about it. Heheh.
[ Organization | 2003-03-18 23:59 | | PermaLink ] More >